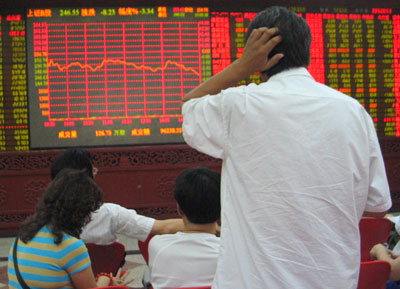 Investors monitor stock price movements at a brokerage firm in Beijing July 5, 2007. [newsphoto]
Chinese stocks nosedived more than five percent on Thursday as more investors stayed away from the market, which has been highly volatile in the past month.
The benchmark Shanghai Composite Index fell 5.25 percent to close at 3,615.87 points, extending Wednesday's two percent loss.
Turnover in Shanghai A-shares was low at 75.76 billion yuan, slightly higher than the 72.26 billion yuan on the previous session, but less than one-third of the daily record of 267.5 billion yuan reached on May 30.
That indicates many investors remain cautious and are staying away from the market, analysts said, adding that it may take a long time for investors to regain confidence.
The decreasing faith among investors could also be seen in the steady drop of the number of new share trading accounts opened each day.
On Wednesday, only 70,132 new accounts were opened, the lowest since February 26, after 80,000 were added on Tuesday. That marked a big drop from the daily average of more than 300,000 in May.
Only some 80 out of more than 1,200 stocks in the Shanghai and Shenzhen A-share markets posted gains, while more than 250 stocks fell their daily limit of 10 percent.
The fall was attributed to a planned huge sale of special bonds and an increase in stock supplies.
The Ministry of Finance will soon start the sale of 500 billion yuan in special bonds, the first batch of its planned 1.55 trillion yuan special bond issuance to finance the yet-to-be-established State Forex Investment Company, the China Business News reported Thursday.
Investors are concerned the bond offer may divert money from the market, which has plagued it for two weeks.
Adding to investors' worries, regulators are accelerating the approval of new initial public offerings to further cool down the market.
Bank of Nanjing and Bank of Ningbo said on Wednesday they would launch IPOs of domestic A-shares next week that is estimated to raise a combined US$1.8 billion.
China Shenhua Energy, the country's top coal producer, is also planning a domestic share sale, hoping to raise as much as US$6.3 billion.
Regulators have cleared the obstacles to the return of red chips which are registered and listed overseas, with their main business in the Chinese mainland, China Securities Journal reported Thursday.
China Mobile, China Netcom and CNOOC are expected to be among the first batch to list in the mainland bourses, according to the report.
China's stock market has been highly volatile and seen big losses since the Ministry of Finance announced a tripling of the stamp tax on the night of May 29.
In the past month, 45 percent of the yuan-denominated A-shares in the Shanghai and Shenzhen stock exchanges, or 653 stocks dropped more than 30 percent; 901 stocks, or 62 percent, were down more than 20 percent; and 53 declined more than 50 percent.