BEIJING - High school students celebrating the end of exams were among 25 people killed in a thunderous explosion that destroyed a karaoke bar in northeast China, local sources said.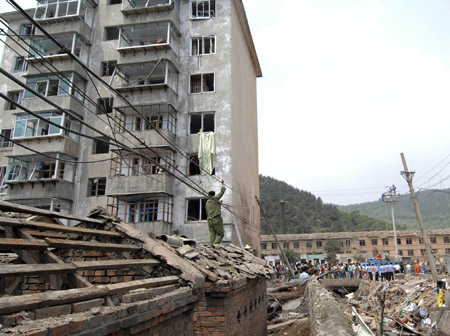 A devastated residential building and debris and are seen after an explosion in a two-storey karaoke parlor in Benxi Autonomous County of Manchu Nationality, Northeast China's Liaoning Province, July 5, 2007. [Xinhua]


33 others were injured, inclufing four reported to be in a serious condition.
The blast occurred in a coal mining town of 40,000 people in Liaoning province on Wednesday night, destroying the two-storey structure and damaging nearby buildings.
Rescuers had finished clearing the debris and found 25 bodies. Among the dead was the parlor owner surnamed Qu, said an official in charge of the emergency.
The explosion happened at 8:50 p.m. at Tianying Karaoke Parlor, a two-storey roadside building where bath services were also operated, in Tianshifu Township, Benxi Autonomous County of Manchu Nationality.
The powerful explosion caused the entire building to collapse, producing a 300 sq m heap of reinforcing steel and concrete and burying several motor vehicles.
There was a temporary power cut in the township following the explosion. Other buildings in the vicinity had damages to windows and roof tiles.
Workers have been repairing the adjacent high-voltage power lines destroyed in the explosion in order restore power supplies, while some other workers have been clearing away the debris.
Many of the victims were students letting loose after examinations, witnesses said.
"Some of the victims were teenagers around 18 to 19. Including one of my friends. I'm very sad," a local high school girl told AFP by phone. She declined to provide her name, saying she was too distraught.
A man who gave only his surname, Quan, and who went to the site after the disaster also said students were among the victims of the blast at the privately run venue.
"There was a very loud noise and all the windows near the site were shattered," Quan told AFP.
The blast also brought down nearby power lines, pitching the town into darkness. Crews were still working on Thursday to restore full power.
The news agency said police were questioning the wife of the dead manager and some of the venue's staff.
Local government officials have ordered that every effort be made to help the victims and identify the cause of the accident.
An investigation is underway.