Closer Cooperation
VIENNA, Austria - North Korea is prepared to extend its cooperation with the U.N. nuclear watchdog in its mission to shut down the country's nuclear facilities, according to a report made available Tuesday to The Associated Press.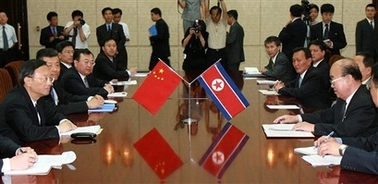 Chinese Foreign Minister Yang Jiechi, left, talks with his North Korean counterpart Pak Ui Chun, second right, at Mansudae Assembly Hall in Pyongyang, Tuesday, July 3, 2007. China's foreign minister met in North Korea with that country's foreign minister Tuesday for talks that were expected to focus on Pyongyang's promised nuclear disarmament. [AP]
The confidential four-page report said North Korea has agreed to provide International Atomic Energy Agency experts with needed technical information, access and other help needed to shut down North Korea's plutonium-producing Yongbyon nuclear facility.
The report will be discussed by the agency's 35-nation board and is expected to be approved as early as Monday, paving the way for the beginning of the IAEA mission overseeing the shutdown and eventual dismantling of the Yongbyon facility.
That would effectively start the process of ending the North's nuclear program, which - if carried through - would eliminate it as a nuclear weapons threat.
Chinese state media reported Tuesday that North Korean leader Kim Jong Il said the countries involved in the February deal committing his government to dismantling its nuclear program should follow through on their initial pledges of aid.
"Recently there have been signs that the situation on the Korean peninsula has been eased," Kim was paraphrased by Chinese Central Television as saying to Chinese Foreign Ministry Yang Jiechi.
Kim said "all the parties should implement the initial actions" of the disarmament agreement reached in February, the report said. The initial steps include the shutdown of the North's main reactor in exchange for economic aid and political concessions.
Chinese Foreign Minister Yang Jiechi met with Kim in Pyongyang on Tuesday and conveyed a "personal message" from Chinese President Hu Jintao, the North's state media reported.