Transplants for foreigners restricted
(Reuters/chinadaily.com.cn)
Updated: 2007-07-03 13:28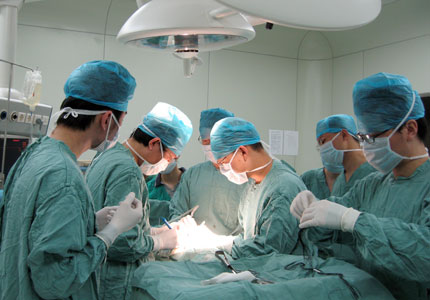 Doctors perform a kidney transplant operation, from a husband to his wife, in a hospital in Wuhan, Central China's Hubei Province in this March 6, 2007 photo. China has enacted rules restricting organ transplants for foreigners. [newsphoto]

China will restrict organ transplants for foreigners coming to China as tourists, promising priority to sick Chinese and demanding that patients from other countries seek official approval, the government announced on Tuesday.

The rules issued on June 26, 2007 by the Ministry of Health warned hospitals against bringing transplant patients to China under the guise of medical tourism and said provincial and central health departments must approve such operations for foreigners.

About 2 million people in China need transplants each year, but there are only around 20,000 operations because of shortages of hearts, kidneys and other organs, local reports have said. But it is reported that some hospitals, eager for cash, have turned to high-paying foreigners for operations.

The new rules say locals must be given priority.

"Priority in our country's organ transplants must be given to meeting the needs of Chinese citizens, including permanent residents from Hong Kong, Macao and Taiwan," said the rules issued on the ministry's Web site (www.moh.gov.cn).

Hospitals and doctors that break the rules face punishment and loss of their approval to carry out transplants.

The announcement represents China's latest effort to plug loopholes in the organ transplant process.

In March, a senior Chinese court official told state media that transplants using executed prisoners' organs were "quite exceptional" and required consent from the convicts or their families.

Since July, the sale of human organs in China has been banned. Hospitals now require written consent of donors and restrict the number of hospitals allowed to perform transplant operations.
Most Commented/Read Stories in 48 Hours