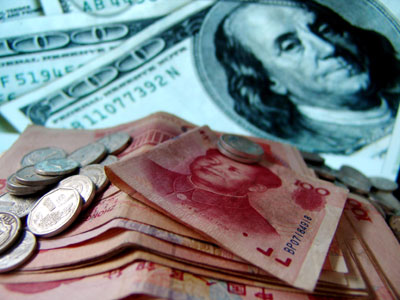 Chinese and US banknotes are seen in this file photo. [newsphoto]
China's currency hit a new high against the US dollar on Tuesday as the country's trade surplus is projected to top US$100 billion in the first half of the year.
Before trading started on Tuesday morning, the People's Bank of China (PBoC) set the midpoint at 7.5951, breaking the 7.60 barrier for the first time since China ended its peg to the US dollar in July 2005.
The PBoC widened the yuan's daily trading limit against the US dollar to 0.5 percent to 0.3 percent on May 18, making it possible for faster gains.
The yuan has appreciated 6.35 percent against the US dollar since the exchange rate reform in 2005.
However, that has failed to appease the Bush administration, American lawmakers and businesses. US Treasury Secretary Henry Paulson said Monday he was unhappy with the slow pace at which the yuan is rising in value.
American lawmakers and businesses claim China is keeping the yuan artificially low to give its exports an unfair advantage and demand a faster rise in yuan's value.
The new midpoint came after a senior Chinese government economist says the country's trade surplus for the first half of this year may top $100 billion on top of a US$177.5 billion surplus in 2006.
"The trade surplus reached $85.7 billion in January-May, and for the first half of the year will exceed $100 billion," said Yao Jingyuan, chief economist for the National Bureau of Statistics.
That is expected to give more ammunition to American lawmakers who are calling for legislation to impose higher tariffs on imports of Chinese goods, or take other punitive steps if Beijing fails to ease currency controls.
The Chinese government has said it is not actively pursuing a surplus and has taken steps to slow exports.
The latest move happened on June 19 when the Ministry of Finance announced it will eliminate or reduce tax rebates for more than 2,800 export items from July 1. That accounts for 37 percent of all export products.
China also insisted on the gradual reform of the yuan exchange rate and said a stronger renminbi alone could not put an end to the high-flying surplus.