One migrant worker is fighting for survival, two are missing, and six remain in serious situation in the hospital, after armed gangsters in Guangdong Province beat up about 300 migrant workers who had gone on strike to demand unpaid salaries on Friday, the Chongqing Morning Post reported .

The Beijing-based China News Service reported on Monday that four suspects were detained by police.

The migrants, most of whom are from Southwest China's Chongqing Municipality and Sichuan Province, were working at a construction site for a hydropower station on the Dongjiang River in Dongyuan county, in South China's Guangdong Province.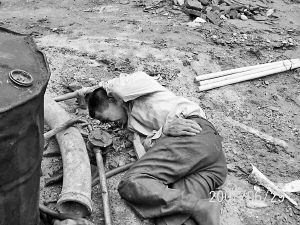 A worker lies on the ground after he was beaten by gangsters during a strike to demand unpaid salaries in Dongyuan County, Heyuan City, South China's Guangdong Province, June 29, 2007.[Chongqing Morning Post]

The workers, who have not been paid for four months, went on strike on Friday, which led to the descent by more than 200 thugs, according to the newspaper.

"The first batch of about 50 gangsters came with spades in their hands, and the second batch had axes, steel pipes and sabres, and there were more behind them," the newspaper quoted Liu Gangqing, one of the migrant workers, as saying.

"They didn't stop lashing out at us even when the police arrived," said another migrant worker Li Chuanbing.

A doctor with Heyuan People's Hospital told the newspaper that Lei Mingzhong, a victim of the violence, had suffered "brain death" and had virtually no chance of survival.

Huang Juping, a Heyuan government spokesperson, confirmed that Lei - supported by a pacemaker and breathing apparatus - was fighting for his life.

However, he denied there had been a mass assault, saying it was "a violent conflict" involving more than 30 migrant workers and other company staff.

According to Huang, about 100 migrant workers were incited by their employer, Qiutian Construction Co based in Shenzhen city, to ask for a rise from Fuyuan Hydropower Development Co, the proprietor of the hydropower station.

Qiutian said it had held back workers' pay because Fuyuan refused to compensate it for losses suffered when some of the company's equipment and tools were washed away by flash floods last summer.

The migrant workers, headed by Qiu Haodi, a manager with Qiutian, started to dismantle installations at the power station after their request was turned down.

The workers had been organized to petition the local government on Friday afternoon. After several hours of government mediation, they returned home.

Wang Guangtao, the construction minister, ordered an "immediate investigation of the incident". Local police have detained four Fuyuan representatives alleged to have been involved in the attack.

Chased by the gangsters, two workers were forced to jump into Dongjiang River during the attack. But they survived.

The local government has set up a mediation team. Fuyuan has agreed to pay the medical costs of the injured workers. Construction of the hydropower station will be suspended until all "divergences" have been solved between the two companies.

(China Daily 07/03/2007 page4)