HONG KONG -- Chinese President Hu Jintao attended a gathering marking the 10th anniversary of Hong Kong's return to China and the inauguration of the third-term government of the Hong Kong Special Administrative Region (HKSAR) here Sunday morning.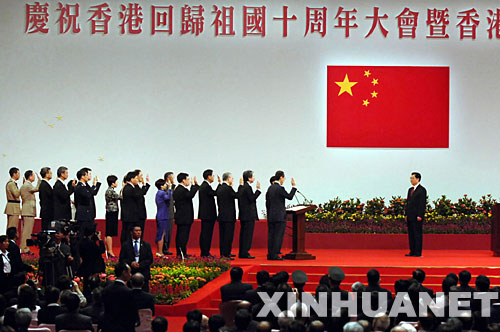 Chinese President Hu Jintao (first from right) swears in Hong Kong's Chief Executive Donald Tsang and cabinet to a new five-year term during the inaugural ceremony in Hong Kong, July 1, 2007. [Xinhua]


At about 9:00 a.m., white-uniformed Hong Kong police band played the national anthem to kick off the celebration.
Chief Executive Donald Tsang went to the podium first to take his oath solemnly, administered by President Hu.
Principal officials of the third-term HKSAR government and members of the Executive Council also took their oaths.
After the inauguration, Tsang addressed the gathering, expressing his gratitude to the central government and Hong Kong citizens for their support for the third-term HKSAR government, and vowing to go all out to do his job well.
"I solemnly pledge to do my utmost to get my job done in the best interests of Hong Kong and our country, as I promised during my election campaign," said Tsang.
Tsang said in the next five years, the HKSAR government will try its best to build a government that is more open, develop a system that is more democratic, promote a new mode of economic development, create a better quality of life, and promote a new caring culture.
President Hu delivered an important speech after the inauguration.
In his speech, Hu first extended cordial greetings to all the people in Hong Kong, and warm congratulations to Tsang, his team and members of the Executive Council who had just been sworn in.
Then, Hu recalled the historical process of Hong Kong's return to the motherland.
He paid tribute to Deng Xiaoping who creatively put forward the scientific concept of "one country, two systems" and personally oversaw China's negotiation with Britain on Hong Kong and the drafting of the Basic Law of the Hong Kong SAR, and to Jiang Zemin who made historical contribution to the smooth return and transition of Hong Kong and the successful implementation of the " one country, two systems" concept.
Hu said Hong Kong's success over the past 10 years shows that Hong Kong people are fully capable of managing Hong Kong well and sustaining its growth.
During the past decade, the two chief executives, Tung Chee Hwa and Donald Tsang, with the full support of the central government and the mainland, led the HKSAR government and people in meeting such grave challenges as the Asian financial crisis and severe acute respiratory syndrome (SARS), Hu said.
"They upheld the overall stability of Hong Kong, revitalized Hong Kong's economy, and Hong Kong has made great progress in all fields of endeavors," said Hu.
Hu said Hong Kong has obtained much experience for the cause of "one country, two systems."
The president summarized the experience into four major points, namely, fully appreciating and implementing "one country, two systems," strictly complying with the Basic Law, giving high priority to promoting economic development and improving people's well-being, and upholding social harmony and stability.
Hu pledged that the central government will firmly support the chief executive and the government of the HKSAR in exercising government power as mandated by law, fully support Hong Kong in promoting economic development, improving well-being of the people and developing democracy, vigorously promote exchanges and cooperation between the Chinese mainland and Hong Kong in economy, education, science and technology, culture, public health, sports and other fields, and actively support HKSAR in conducting external exchanges, he added.
"All the central government policies concerning Hong Kong are designed to promote the interests of Hong Kong and its people and create a better future for Hong Kong and its people," he said.
Sunday's celebrations began with a flag-raising ceremony, which was attended by more than 1,000 people, including Tsang, and will end with a grand fireworks display in the evening.
President Hu arrived here Friday and will leave later Sunday.