HONG KONG -- Hong Kong's red flag was raised into sky Sunday as the former British colony marked the 10th anniversary of its handover to China and bid farewell to a rocky decade of financial woes, disease outbreaks and economic recovery.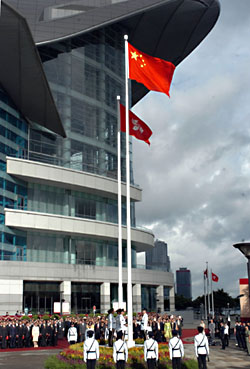 Hong Kong officials and citizens watch the flag-raising ceremony in Hong Kong on the morning of July 1, 2007, the tenth anniversary of Hong Kong's handover to the motherland. [Xinhua]


A few hundred people stood near Hong Kong's harbor to watch the ceremony attended by dignitaries. The crowd erupted with cheers when four helicopters carrying flags of China and Hong Kong Special Administrative Region flew over the area.

"We're here to celebrate Hong Kong's birthday," said 12-year-old Jenny Kwok.

Sunday's festivities were to include a swearing-in ceremony for Hong Kong leader Donald Tsang, a bow tie-wearing veteran civil servant who's beginning his second term. Tsang was to get the blessings of Chinese leader Hu Jintao, making his first presidential trip to the city.

Tsang was selected by an 800-seat election committee.

Since Hong Kong returned to China, the city has been governed under a "One Country, Two Systems" formula. The arrangement has allowed the territory to keep its capitalist economy, British-style legal system, free press and civil liberties, and Beijing has honored its promise to let Hong Kong enjoy a wide-degree of autonomy.

In many ways, Hong Kong has grown closer to the motherland -- which has been vital in helping the city recover from the Asian financial crisis that erupted in 1997.

Hong Kong has become tightly linked to the mainland's galloping economy and has positioned itself as a key entry point to the Chinese market. Hong Kong companies are heavily invested in southern China's booming Pearl River Delta region, employing more than 10 million factory workers.

Later Sunday, the Chinese president planned to attend the opening of a 5.5 kilometer (3.4 mile) bridge with the mainland city of Shenzhen. The bridge is the fourth border crossing for vehicles, and the two-way flow of traffic was expected to eventually reach 61,300 passengers a day.

Beijing has also given Hong Kong's economy a big boost by allowing more mainlanders to visit the city. Hong Kong's hotels, shopping malls and restaurants have become addicted to the big-spending tourists. Last month, about 1.2 million mainlanders visited, a 16 percent increase from the same period last year, the Tourism Board said.

The tourists helped pull the economy out of recession caused by the 2003 outbreak of SARS, or severe acute respiratory syndrome. The disease killed 299 people here and devastated the tourism industry.

Although the mainland makes a great partner in many ways, it's also a fierce competitor. The red-hot stock market in Shanghai is competing with Hong Kong for Chinese companies seeking new stock listings. And Shanghai's port surpassed Hong Kong's this year as the world's second busiest behind Singapore. Another port in Shenzhen is expected to overtake Hong Kong next year.

But Hong Kong is famous for reinventing itself and meeting challenges. It may have to rely on this special talent more than ever in the next 10 years.