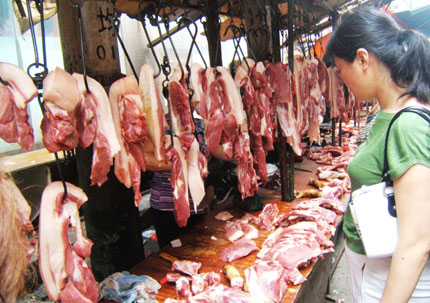 A woman customer buys pork at a market in Yichang, central China's Hubei Province in this June 5, 2007 photo. [newsphoto]


China's gross domestic product (GDP) will grow 10.8 percent and the consumer price index (CPI) will rise 3.2 percent this year, predicts a central bank research group.
GDP growth for the first half of this year may hit 11 percent, the group said in a report released on Thursday, according to the Financial News.
In the first quarter, China's GDP posted an 11.1 percent growth after rallying a 10-year high of 10.7 percent in 2006.
The group forecasted the CPI increase in the January-June period at 3.0 percent, equal to the central bank's target for the whole year.
It attributed accelerating inflation to the price hikes in meat, eggs and cooking oil which is expected to add to the inflationary pressure in the latter half of the year.
What may further push up the overall price level are the high oil prices, price restructuring of resources, and rises in labor cost, said the group.
However, the reduction in import and export tariffs, and export rebates, as well as an overcapacity in certain consumer goods may help mitigate the upward pressure.
In May, the CPI in the country reached a two-year high of 3.4 percent after rising 3.1 percent in March and 3.0 percent in April.