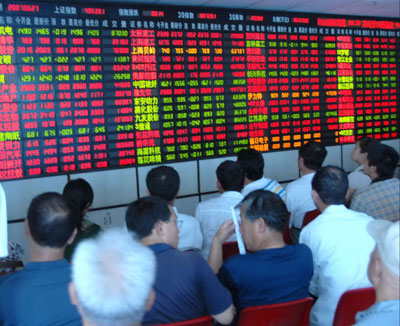 Investors monitor stock price movements at a brokerage firm in Dalian, Northeast China's Liaoning Province June 27, 2007. [newsphoto]
Chinese stocks fell more than four percent on Thursday as fears about the cancellation of tax on interest on bank deposits continue to plague the market.
The benchmark Shanghai Composite Index dropped 4.03 percent to close at 3,914.20 points after moving between 3,912.81 and 4,113.28.
The plunge was attributed to several unfavorable factors. China's top legislature started to debate a proposal on giving the State Council, or the cabinet, the power to reduce or cancel the interest tax. Voting is set to take place on Friday.
Special coverage:
Stock Market

Related readings:
Interest tax may be cut or suspended soon
China stocks up in late rally
China shares sink on policy fear
If the proposal is passed and a tax reduction or abolition follows, bank savings will become more attractive. That will help ease a diversion of deposits to the equity market, which has been widely believed as a major factor driving up the high-flying stock prices.
Another proposal under discussion by lawmakers is also affecting the market. The Ministry of Finance has suggested issuing up to 1.55 trillion yuan of special bonds fund purchases of foreign reserves for the yet-to-be-established State Investment Company. The lawmakers may also vote on this on Friday.
Analysts expect the giant offer of bonds to affect the supply of funds in the country's equity market which is thought to be mainly driven by an over supply of money.
Adding to investors' jitters, assistant central bank governor Yi Gang said Wednesday his agency is determined to make use of a range of monetary policy tools to curb inflation, including interest rates hikes.
However, any monetary tightening is unlikely to target the stock market directly, he noted.
"We are paying keen attention to asset prices, but they are not the decisive factor when determining macroeconomic control measures. We are mainly concerned with inflation, which in China mainly means the consumer price index," Yi told the reporters.
China's stock market, which has surged 50 percent this year after a 130 rally in 2006, has been highly volatile since a tripling of the stamp tax on stock transactions at the end of last month.
The Shanghai Composite Index tumbled 6.5 percent the day after the tax hike and plunged another 8.26 percent several days later amid worries about further governmental cooling measures.
The market gradually picked up and edged close to record highs. But then a flurry of data came, indicating the economy is moving towards overheating and inflation is picking up.
In May, the the consumer price index hit a two-year high of 3.4 percent, well above the benchmark one-year deposit rate of 3.06 percent. After factoring in the 20 percent interest tax, the real interest rate is negative one percent, making the case for the abolition of the interest tax.
In response, the Shanghai Composite Index dropped 3.68 percent last Friday before tumbling a further 3.29 percent on Monday.
The highly volatility is scaring away potential individual investors. On Thursday, the number of newly added A-share trading accounts fell to 115,143, the lowest in three months, according to statistics from the China Securities Depository and Clearing Corporation.
That marked a sharp decline from the daily average of more than 300,000 in May.