CHANGSHA -- One person has been swept away by flood waters and 633,900 people have been affected by heavy rains and floods in central China's Hunan Province since Sunday.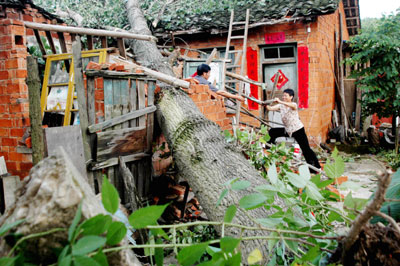 An uprooted tree falls on the roof of a house as residents displace household items after a rainstorm in Shangrao, East China's Jiangxi Province June 25, 2007. [Newsphoto]

Yin Zhen, deputy head of a hydro power plant in Hongjiang, disappeared on Sunday morning when he tried to evacuate the plant. Only hours earlier Yin ordered two employees to leave the plant, but he decided to stay, according to the Hunan flood control headquarters on Wednesday.

The rains and floods destroyed 2,540 houses and 3,440 hectares of crops, closed 72 highways and damaged three small reservoirs, the headquarters said. Losses stood at 272 million yuan (35.7 million US dollars).

Heavy rains will continue for at least another three days in Hunan, the Central Meteorological Station forecast on Wednesday.

Rainstorms have hit Guizhou, Hunan, Hubei, Jiangxi and Zhejiang provinces and Shanghai since the weekend, affecting about 167,500 hectares of crops, destroying 19,200 hectares, said the Ministry of Civil Affairs on Tuesday.

Thirty-seven people, including 32 in Jiangxi and five in Zhejiang, were killed by lightning strikes while 11 others were killed by floods and collapsed buildings.

More than 8,100 houses were destroyed and 34,000 damaged. About 73,000 people were evacuated from their homes.

The disasters have caused losses of more than 1.06 billion yuan in these areas.

Succumb to lightning strikes

At least 48 people have been killed in rainstorms in southern and eastern China over the last five days, with 37 succumbing to lightning strikes, Xinhua News Agency said Tuesday.

Twelve people remain missing following the storms, which drenched areas including the lower reaches of the Yangtze river, Xinhua said.

Fourteen rural residents were killed in a lightning strike on Sunday when they were working in fields in Jiangxi province, the report said.

A 56-year-old woman and her 14-year-old grandson also died when they sought shelter under a corrugated iron roof, the report added, while two residents of Nanchang city were killed while they huddled under a tree, also on Sunday.

In nearby Zhejiang province, five people building a tomb were killed in a lightning storm, Xinhua added.

The villagers were constructing the tomb on a small hill when the storm struck Monday, the news agency reported, citing a police spokesman.

The lightning storm killed the five instantly while another villager was injured, the report added.

There have been regular thunderstorms in recent days in the area and the local meteorological station had warned residents of the threat, Xinhua said.

China's extreme weather has killed at least 155 people in flooding this year, while about two million people were suffering from drought in the north, the government said Monday.

Local meteorological officials in Jiangxi have warned that lightning storms and downpours will continue until Wednesday, the report added.