Chinese President Hu Jintao on Monday once again stressed the importance of implementing the scientific concept of development, promoting social harmony and building an overall well-off society, ahead of the 17th national congress of the Communist Party of China (CPC) later this year.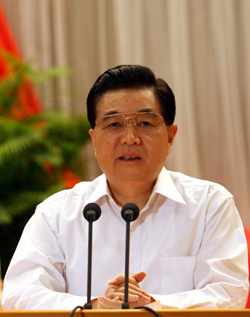 Chinese President Hu Jintao addresses a senior course for ministerial officials and provincial heads at the CPC Central Committee's Party School on Monday, June 25, 2007. [Xinhua]


"Under the current international backdrop, China faces unprecedented opportunities and challenges, which require us to have a clear view of today's China and the world, meet new demands of development and new expectations of the public, draw experience and make scientific guidelines," said Hu.
Hu, also general secretary of the CPC Central Committee, made the remarks when addressing a senior course for ministerial officials and provincial heads at the CPC Central Committee's Party School.
He told the officials that all Party members should "remain sober" and always keep in mind the real situation of the country.
Top legislator Wu Bangguo, Premier Wen Jiabao and other senior leaders including Jia Qinglin, Wu Guanzheng, Li Changchun and Luo Gan attended the meeting presided over by Vice-President Zeng Qinghong, who is also president of the Party school.
Hu stressed that it was necessary to scientifically analyze the opportunities and challenges that China was facing in economic globalization, and the scientific concept of development should be implemented in the process of industrialization, urbanization, marketization and internationalization.
Since the 16th CPC national congress in 2002, the CPC Central Committee proposed the scientific concept of development which focuses on a people-oriented, overall, coordinated and sustainable development, said Hu, also chairman of the Central Military Commission.
He reminded officials to combine the policy of reform and opening-up with a Chinese-characteristic socialist development.
As to the economy, Hu emphasized the building of an energy-efficient, environment-friendly society and the improvement of the basic economic system centered on public ownership while "unswervingly" encouraging and maintaining non-public forms.
"To develop socialist democracy is our long-term goal," he said. "The government should expand political participation channels for ordinary people, enrich the forms of participation and promote a scientific and democratic decision-making process."
Hu said the government should focus on problems of immediate interest to the public, such as education, employment, social securities and health care.
The president urged officials to improve their ideology, leadership and lifestyles, oppose formalism, bureaucratism and extravagance, and fight a long-time, tough war against corruption.
"All Party members should unite to strive for the success of the 17th Party congress and the building of an overall well-off society," the president urged at the end of the speech.