HONG KONG - Disney has decided that Mickey, Minnie and Goofy can't conquer the coveted Chinese market alone, and that a little local magic should do the trick.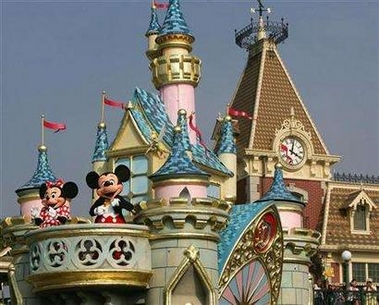 Mickey Mouse and Minnie Mouse at Hong Kong Disneyland in a file photo. [Reuters]


The Walt Disney Co. will premiere the Chinese-language movie "The Secret of the Magic Gourd" on Monday -- one of a number of projects aimed at carving itself a strong position in China.
The film, made in Hong Kong, is based on a popular Chinese story about a boy who discovers an enchanted gourd -- a squash-like vegetable -- that grants him wishes.
The movie, made by Hong Kong's Centro Digital Pictures, is the first-ever Disney-branded movie made outside Hollywood. Disney's famed animators were not involved.
It's a significant venture into local-flavored programming for a company that has until now counted on Mickey and friends to help win fans around the world. Disney's first park on Chinese soil, Hong Kong Disneyland, is a near-replica of the original Disney theme park in California.
"Good stories are not dominated by American creators," Disney's top China executive Stanley Cheung said in a recent interview in Hong Kong.
"We are not fixed on the idea that we have to lift stuff from the US and drop it into China and if that doesn't work, we don't have business. I think that would be a narrow way of doing business," Cheung said.
"Magic Gourd," which will be promoted with story book and merchandise tie-ins, is only the beginning of Disney's localization in China, with plans to assemble a group of Chinese Disney characters alongside more traditional ones, he says.
Cheung said the story of "The Magic Gourd" fits with Disney's traditional values. The movie's main character is troubled by his magical vegetable which steals from others to please him.
"It's about a kid growing up understanding himself, family, positive values," Cheung said.
The executive said Disney Chief Executive Bob Iger and the company's senior management are committed to localized content.
"It's directly from Bob and our global leaders," Cheung said.
"They look at China as very, very important to The Walt Disney Co., especially in the longer term ... (in) 10, 15 years," he said. "The company, especially Bob and the board, are looking at how we can grow, how we can ensure long-term growth of this company."