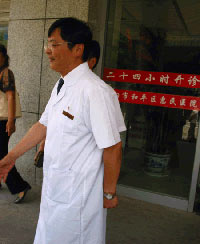 Sun Hua, director of the Heping District Huimin Hospital is on his way to meet some patients. The hospital offers basic medical healthcare to those urban poor who live on subsistence incomes.

Liu Yulan, a Shenyang laid-off worker, believes she is lucky after undergoing a hysterectomy for 2,800 yuan in Heping District Huimin Hospital in Shenyang, capital of Northeast China's Liaoning Province.



"I'm so lucky that the surgery cost me only 2,800 yuan, compared to a relative of mine who paid 7,000 yuan for the similar surgery in a non-Huimin hospital a month ago," explained Liu.

"Huimin," means "to be of benefit to people far and wide," is now catching the country's attentions when it comes to a health system for the urban poor.

Founded in 2006, Heping District Huimin Hospital, or Heping District Charity Hospital, provides healthcare services to the district's 30,000 lower-income households on subsistence allowances at an affordable charge.

"Treatment fees are half price and medicine is discounted by 20 percent," said Sun Huan, director of Heping District Huimin Hospital. "We are a non-profit public facility and it mainly serves disadvantaged people."

Asked how the Huimin hospital can operate by charging lower medical fees, Sun replied: "Hospitals of this kind can succeed thanks to good management that carefully administers monetary aids donated from charitable organizations and local governments."

"We first streamline staff resources so that everyone is working efficiently. There are only three office supervisors looking over more than 150 hospital staff.

The hospital has also stopped needless checking, unnecessary surgery and higher-priced drugs, as 'Huimin' does away with a doctor's job review pegged to the amount of medicine he sells.

Third, most Huimin hospitals cap the cost of certain treatments. Heping District Huimin Hospital stipulates that the medical expenditure on appendectomies is 1,500 yuan. If the treatment costs more than that, the hospital will help the patient pay the rest expense."

The "Huimin" practice has filled the gap that resulted after a 1998 decision to subsidize the urban poor, in terms of food, clothing and housing, but not medical expenses.

In the late 1970s and early 1980s, the central government reduced funding for healthcare, creating deficits for public health institutions. This move forced hospitals to generate their own revenue by aggressively selling drugs.

To stem the rising tide of public complaints about high medical costs, most local governments like Liaoning province, Henan province, and Zhejiang province, have launched pilot programs that aim to cut medical expenses for those living on subsistence allowances.