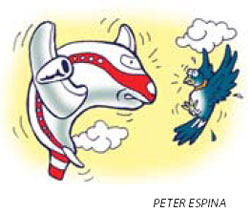 Raising pigeons has long been regarded as a symbol of "Old Beijing".
But now authorities at Beijing Capital International Airport have declared war on the humble bird, declaring them an aviation menace.
"Pigeons are now one of the greatest threats for airplanes," Huang Jianjun, director of the airport's flying area management department, told China Daily on Friday.
"And the situation can only get riskier when the number of flights increases leading up to the 2008 Olympic Games.
"It would be disastrous if one of them flies into a plane, and causes a crash."
Last Monday nine pigeons collided with an aircraft landing at the airport.
"It was sheer luck that the plane was about to land and therefore flying quite slow, so it didn't sustain any major damage," Huang said.
The birds were carrier pigeons and their splattered remains showed rings on their legs.
It was later revealed that the birds belonged to a farmer living about 3 km away from the runway.
It was the eighth recorded incident of pigeons colliding into planes, since the airport opened in 1998.
Fortunately there have been no crashes.
"We are worrying about each flight coming and going because there are more than 100 pigeons flying around the runways every day," Huang said.
"It is with urgency that local authorities ban pigeon breeding, feeding and flying anywhere near the airport."
Villages within the airport's immediate fly zone - which extends 6 km to both sides of the runway and 15 km on both ends of it - hundreds of households are reportedly keeping pigeons.
The airport has done everything to control this potential aviation menace.
Authorities there have spent several million yuan on loudspeaker devices that mimick the sounds of eagles, owls and other predatory birds, yet the move had so far failed to keep the pigeons away.
Even tall nets erected around the runways have shown limited success in keeping the pigeons away from flying aircraft.
More than 23,000 Beijing residents are registered with the Beijing Carrier Pigeon Lovers' Association.
A fighter aircraft from the Lanzhou Military Command crashed last November after it collided with pigeons. The pilot died when he attempted an emergency landing instead of ejecting, fearing the plane would crash into populated areas.
(China Daily 06/23/2007 page1)