HONG KONG -- "I'm very confident in Hong Kong's promising future under the principle of 'one country, two systems' created by Deng Xiaoping with his foresight and sagacity and my belief in Hong Kong's future will never change," tycoon Li Ka-shing said.

Recalling the ten years of Hong Kong's return to its motherland, Li Ka-shing, a local grown legend and a world famous tycoon, perhaps is the best example of Hong Kong dream.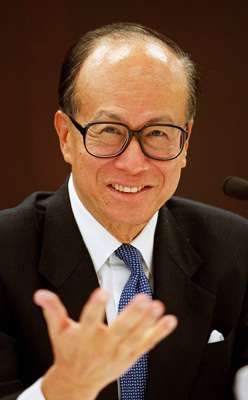 Undated file photo of Hong Kong tycoon Li Ka-shing.


His secret of making fortunes, as hundreds of his stories tell, is hard work plus deeply connecting his roots with the fortune of Hong Kong. Looking back the decade, Li's rule of belief in Hong Kong's future again has done its magic.
As the chairman for both Cheung Kong Holdings and Hutchison Whampoa, Li has an empire of 240,000 staff, operating business in 55 countries and regions. His business is fast growing during the decade and the way to his enlarging riches is still his unshakable belief in Hong Kong. When some Hong Kong people worried about the return and fled away, Li just kept his hope in Hong Kong as always.
Hong Kong's return to the motherland is a great achievement of the principle of "one country, two systems", a framework to show China's sovereignty over Hong Kong but keep Hong Kong's social andeconomic scheme, including people's living style and that guarantees Hong Kong's peaceful return and its social stability, Li told Xinhua last week as Hong Kong is preparing a grand celebration for its tenth anniversary of return to the motherland.
Hong Kong did have a tough time as the newly established Hong Kong Special Administrative Region received a severe stroke during the financial turmoil in 1997 followed by fearful plague of SARS in 2003, an ordeal that made Hong Kong people lost their fortunes, even lives.
Now, talking about the difficulties and sad moments Hong Kong has experienced, Li again said his belief in Hong Kong's future has never changed, especially when Hong Kong's future is in Hong Kong people's hands with the strong support of its motherland.
"Hong Kong does not need to share any expense of the country, yet whenever Hong Kong meets any difficulties, the central government will exert its most to help. Hong Kong should remember the tough moments that we went through with our motherland side byside," Li said.
Looking forward to the future of Hong Kong, the tycoon, who has been living in Hong Kong for over 60 years, said no matter what moment it is, his belief and hope in Hong Kong are always the same.
"Hong Kong's economy is now on a right track and the economic development of Chinese mainland is bringing Hong Kong great chances. If a person in my age is still working hard, young people should work even harder for Hong Kong's future development," He added.