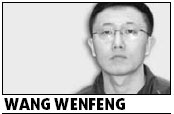 While US Congressional pressure continues to build for tariff action against China, a bumper crop of dialogues at top administrative levels appears to indicate that China and the US are truly progressing on bilateral relations.
Chinese Deputy Foreign Minister Dai Bingguo and US Deputy Secretary of State John Negroponte meet in Washington today for the 4th Sino-US Strategic Dialogue. This marks the second round of high-level talks between the two governments in less than a month, following the second Sino-US Strategic Economic Dialogue in Washington.
Apart from reciprocal visits and meetings at various international gatherings by the two heads of state, regular dialogue has become a key element in Sino-US relations.
The necessity for this dialogue is the two countries' major roles in the international community and the importance of their bilateral ties.
While the US is the one remaining super power, China's international status has risen significantly with its economic development over nearly 30 years of reform and opening to the world.
The two countries' bilateral ties have been developing in both scope and depth. Exchanges are growing along with their economic interdependency.
It is fair to say steady and healthy development of Sino-US relations significantly benefits both countries, while any problems in their bilateral ties are likely to threaten their interests. Many people believe China-US ties are this century's most important bilateral relationship.
China and the US must maintain regular dialogue to expand consensus and manage differences. As two great countries, China and the US share common interests on such critical international issues as sustaining regional peace and international security, fighting terrorism and extremism, promoting the development of the global economy, securing the global energy supply and dealing with climate change.
The two sides need to develop joint action plans to maintain effective cooperation.
At the same time, as the two countries differ greatly in ideology, social systems and stages of development, it is natural for them to harbor suspicions and misunderstandings as well as different stands on some issues.
China and the US must exchange views regularly and frankly in order to increase mutual trust and minimize differences that could impact on bilateral ties and wreck cooperation on critical international issues.
For the US, the need to conduct dialogue with China has increased in recent years. China is a country undergoing significant change. Its economic, political and social development is speeding ahead, as many of its domestic areas are in transformation. Its foreign affairs are also showing new trends and characteristics.
For the US, dialogue is an important means to keep tabs on the direction of China's development and policy orientation, even exerting some influence on China's transformation to suit US interests.
Likewise, it is of strategic importance for China to strengthen dialogue with the US to create an environment that allows the US to better understand China's resolve to follow the path of peaceful development while it continues to learn the rules of the current international system in a bid to become a mature player in world affairs.
It is fair to say that the dialogue between the two governments has achieved good results in recent years. For example, their strategic dialogue is more open compared with other channels.
Energy resources and Sudan, which have emerged as new issues between the two countries, featured prominently in recent bilateral dialogue. The meetings led to deeper discussions between academics as well as officials, resulting in these issues being highlighted in the two countries' diplomatic affairs.
Currently the two countries are making progress in mutual understanding over these issues thanks to candid exchanges during strategic dialogues. Holding a dialogue over emerging issues helps both sides better grasp each other's priorities, better understand each other's thinking, operation and policymaking process.
It is of particular importance for both sides because they are so different in so many ways. The continuous improvement of a bilateral dialogue mechanism in recent years is a key reason for their stable relations.
It should be noted, however, that some problems still exist within the bilateral dialogue mechanism between the two governments which could have an undesirable impact on long-term progress. For instance, the strategic economic dialogue held last month witnessed the emergence of some troubling developments despite its overall success.
Today, China is faced with many domestic problems, some of which are very serious, though its economy as a whole remains in healthy development. Under these circumstances, it is natural for China to hold a different view from the US on trade-related issues such as the renminbi exchange rate.
Unfortunately, the political climate in the US is such that Congress was able to force the Bush administration to turn bilateral dialogue into a channel for US demands on China.
Despite efforts by the Chinese side to argue its case, many US lawmakers were not satisfied with the results of the dialogue and took action not conducive to the healthy development of bilateral ties because they failed to understand the real problems China now faces.
Initially, the two governments hoped that improved dialogue would increase mutual understanding. It is unrealistic to expect a few rounds of dialogue to settle all disputes or resolve all major issues.
It is not constructive to bilateral dialogue for either side to turn dialogue into negotiation, forcing the other side to change its stand. Both sides should seriously think about the best way to eliminate interference from outside the bilateral dialogues if they truly want to achieve their goals.
Sino-US relations are both important and complex. There are times when bilateral ties in particular areas may become strained while remaining sound in other areas. This shows that bilateral ties between the two major powers are maturing.
Most importantly, both countries must work to maintain the stability of bilateral relations.
Dialogue will help strengthen strategic mutual trust between the two countries, eliminate misunderstanding and suspicion and break new ground for cooperation.
The author is a researcher with China Institutes of Contemporary International Relations
(China Daily 06/20/2007 page11)