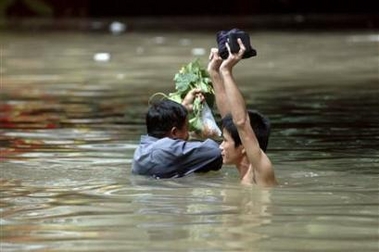 People wade through a flooded street in Liuzhou, south China's Guangxi Zhuang Autonomous Region, June 13, 2007. [Reuters]


China has seen 128 people killed and 24 missing in floods by June 15 this year, the Office of the State Flood Control and Draught Relief Headquarters said on Saturday.

Meanwhile, China's north is experiencing severe drought, according to the office.

A total of 22.72 million people and 1.22 million hectares of crops had been affected by the floods by June 15 this year, which inflicted a direct economic loss of 8.92 billion yuan (1.17 billion U.S. dollars), according statistics from the office.

In the first half of June alone, 63 people were killed. Economic loss of 6.55 billion yuan was incurred as 14.24 million people and 717,000 hectares of crops were affected by the floods.

Meanwhile, the widespread and prolonged drought has left 10.91 million Chinese short of drinking water by June 14 this year.

The drought has hit 165 million mu (about 11 million hectares) of arable land and 120 million mu (about 8 million hectares) of crops in most parts of northern China and some parts of the southwestern Chongqing,Sichuan and Yunnan.

The acreage of arable land affected by drought is about one million hectare more than the average level in the past years, according to the office.

The office said 9.74 million heads of livestock were also short of drinking water.

The drought in Sichuan has been partly alleviated by rainfalls since June 7. However, the drought in north China will continue or even worsen due to continued high temperatures and shortage of rainfalls, according to Cheng Dianlong, deputy chief of the office.

The government has earmarked 101 million yuan (about 13 million U.S. dollars) in relief funds for the provinces and regions affected by severe floods over the past weeks, while 80 million yuan has been delivered to drought-hit regions in the country's latest efforts to help them alleviate the drought.