More and more Chinese are beginning to have or accept tattoos, according to some tattoo fans said during the Tattoo Show Convention China 2007 in Beijing.
A photographer said that policemen in certain areas of east China's Jiangsu Province would question young men with tattoos years ago since they were usually regarded as punks looking for trouble.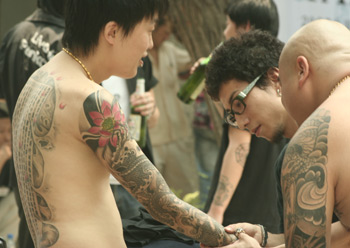 A 27 year-old man surnamed Wang openly showed off his torso with his arms and back covered in tattoos. [Sun Yuqing/chinadaily.com.cn]More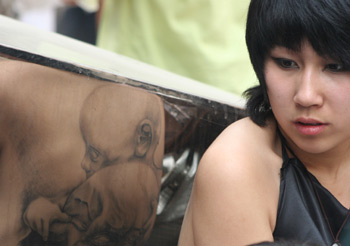 A girl's tattoo is reflected during the Tattoo Show Convention China 2007 in Beijing June 16, 2007. [Sun Yuqing/chinadaily.com.cn] More

But now the practice of pricking indelible marks on the skin is becoming popular in China as the convention is crowded with men and women with different kinds of tattoos. The organizers hope this event can provide a platform for a healthy and professional development of tattoos in China and also offer the room for tattoo fans to exchange ideas.

A 27 year-old man surnamed Wang openly showed off his torso with his arms and back covered in tattoos. He wore army pants, wore a gold necklace and had a ring that pierced his lip. He said he was only 17 when he had his first tattoo, a black swirl of thorns on his left shoulder. Wang talked with his friends who also had tattoos, and he was friendly to those who touched his tattoos or asked for taking photos.

Wang also admitted his parents were against him having a tattoo at first but gradually they accepted his choice. Now, Wang's arms, chest, and back are tattooed with different designs. A design of dragon on his left arm was finished after 30 hours and the tattoo cost 8,000 yuan (more than US$1,000), said Wang.

A girl Tian Tian, 19, had her back tattooed with two evil-looking bald heads and she explained that she just liked the design. Tian Tian also acknowledged her parents didn't like the tattoo.

"It's my own business, and I have my own rights," said the teenager, who just quit her job in Qingdao, East China's Shandong Province,

Many tattoo artists from other provinces were on hand to give fans tattoos at the convention.

One surnamed Lee said he has worked in this field for three years in Shenyang, Northeast China's Liaoning Province. "It's a profitable job, and I earn about 10,000 yuan one month," claimed Lee. He developed his business mainly through friends and word of mouth.

However, Dong Dong, chief tattoo artist for Beijing-based Mummy Tattoo Studio, said that he couldn't earn that much, but he could earn enough to buy the materials for tattoos. Dong Dong has worked in the industry for eight years and he continues his major career of painting now.

He said: "In previous years, many people had tattoos just to show off and think they are cool. But now more people decide their own design and have tattoos because they are really interested in them." Dong Dong said that a good tattoo artist should have a good understanding and use of color transition, style and design.