While many are shocked by the news of a slave trafficking ring in Shanxi Province, some of the victims will not be able to prosecute their traffickers because they are not covered by the criminal law code.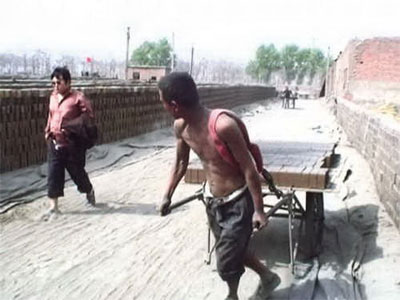 A rural migrant laborer, right, looks back at a passerby while pulling a cart of bricks at a kiln in Caosheng Village, Hongdong County in Shanxi Province in this undated photo. [Shanxi Evening News/file]


Thirty one workers who were forced to work as 'slaves' in brick kilns in northern Shanxi province were freed by police, and another 217 'slaves' were rescued in neighboring Henan Province, Xinhua reported Thursday.

According to the report, most of the 'slave' laborers are migrant workers who had been lured by human traffickers to the brick kilns and were later detained by the kiln owners who hired thugs to keep the detainees under tight security.

Anyone attempting to run away would be punished by a deadly thrashing. A thug who worked for a kiln owner in Caosheng Village, Shanxi Province, was arrested by local police for allegedly beating a runway 'slave 'to death after catching the victim.

Death, assault, kidnapping and illegal detention could initiate a criminal procedure in China, but bringing the traffickers to justice is difficult.

"Those traffickers who lure migrant workers, mainly adult males, to do forced labor will not be convicted as the criminal code only covers those who traffic women and children," Guan Zhongzhi, a lawyer with Zhonghuan Law Firm told chinadaily.com.cn.

The legal loophole has put male victims in an awkward position when fighting against their traffickers in the court of law.

It is reported that a crackdown campaign was launched to strike 11 cities of Shanxi Province. Coal mines, brick kilns, private contractors and small-sized enterprises will be under scrutiny after media reports revealed that hundreds of children had been kidnapped and forced to work in kilns in Shanxi.