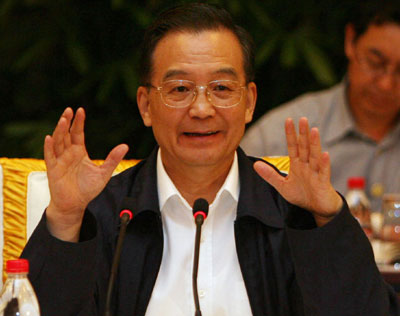 More measures are in the pipelines to cool China's economy, Premier Wen Jiabao said Wednesday. [Xinhua]
BEIJING - More measures are in the pipelines to cool China's economy, Premier Wen Jiabao said in comments published Thursday, amid a flurry of new data showing breakneck growth.
Monetary policies should be "moderately tightened" to ensure stable economic growth, Wen told a Wednesday meeting of China's cabinet, the State Council, according to the official Xinhua news agency.
Wen highlighted China's trade surplus, industrial production and inflation as three key areas of concern.
Special coverage:
Chinese Economy

Related stories:
Inflation hits 27-month high in May
Trade surplus extends growth in May
Price of pork flies to new high
Consumer price rise slows to 3% in April
Official data released on Monday showed China's trade surplus surged to US$22.45 billion in May, up 73 percent from a year earlier.

"The country will continue to adjust export rebates and tariffs on certain items while further improving policies to boost imports in a bid to address the climbing trade surplus," Xinhua quoted Wen as saying.

On Tuesday, the government released statistics showing China's inflation rate jumped to 3.4 percent in May, well above the government's target of 3.0 percent, with a sharp spike in food prices largely to blame.

To address rising inflation, Wen pledged to stabilise food prices by ensuring adequate food supply and improved quality supervision.

Wen also said the problem of excess liquidity in the capital markets would need to be addressed.

"Financial, fiscal and taxation measures should be employed to guide the flow of capital. There should be more channels for capital outflow and for the use of foreign exchange," he said.

The government has raised interest rates twice this year and increased the amount of money the banks must hold in reserve five times in an effort to slow the economy which grew a blistering 11.1 percent in the first quarter.

At the same time, the measures were intended to cool the runaway stockmarket but it took a tripling in stamp duty on share transactions at the end of May to force a halt there and since then, investors have returned to the charge.