BEIJING - Heavy rain swamped south China on Thursday, bringing new misery for hundreds of thousands of villagers made homeless by violent floods which have killed at least 76 people.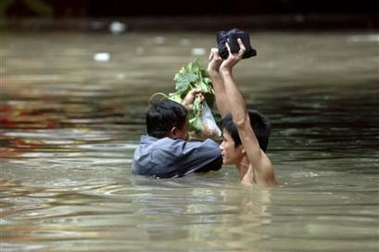 People wade through a flooded street in Liuzhou, south China's Guangxi Zhuang Autonomous Region, June 13, 2007. [Reuters]


Rain would drench parts of seven provinces until the weekend, the National Meteorological Centre forecast on its Web site (www.mmc.gov.cn).

Torrential downpours, mudslides and floods have already battered the provinces of Hunan, Guangdong, Guangxi, Guizhou, Jiangxi and Fujian since last week, prompting the evacuation of 788,000 people, the Civil Affairs Ministry said.

Lightning and landslides killed another two in Guangxi over the past two days, bringing the death toll in the southwestern region to 15, Xinhua news agency said.

Chinese newspapers on Thursday showed a picture of villagers holding vegetables and wallets above their heads as they waded chest-deep water in Liuzhou in Guangxi.

In the worst-hit Meizhou municipality in the northeast of Guangdong province, officials warned evacuated villagers who returned to inspect their inundated houses not to stay long.

"More strong rainfall is forecast for the day and we have been ordered to make sure people stay in their tents and other safe places," a local official in Huangjin township told Reuters by telephone.

"The houses are also very likely to collapse after being submerged in water for days."

The government has been clearing blocked roads to distribute food, clothes and medicine to Huangjin's 24 villages.

"It seems most villagers will have to live on government rations in coming months as the rice crops were all destroyed," he said.

In Ganzhou in neighbouring Jiangxi province, eight people were killed and rivers and reservoirs were overflowing, the local government said.

Authorities in Zhejiang have also warned of landslides and mudslides as rainstorms sweep through the eastern coastal province, Xinhua said.

By Tuesday, flooding and mudslides had caused direct economic damage of about 4.7 billion yuan ($615 million), with 69,000 homes and 1,360 square km (525 square miles) of crops destroyed, the Civil Affairs Ministry said.