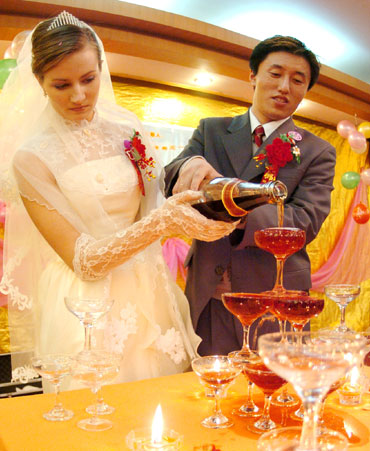 Bridegroom Ge Zhiming and his bride, Nataliya from Belarus, prepare wine for guests at their wedding ceremony in Huaian, Jiangsu Province in this November 26, 2004 photo. [newsphoto]


For months they cooked in the same kitchen at college in London, each of them preparing their own meal, trying not to make it too obvious that something else was brewing.

It was a love match in the making. The ingredients: a Chinese girl named Cao Wei and a French boy called Patrick Rioual.

Casual glances and occasional chitchat soon turned in to a coffee date.

The rest is history, and 10 years on, happily married and living in Beijing, the couple have a 2-year-old son.

"Yes. He has big eyes and a large nose," said Cao, 38, a self-employed jewelry dealer. "But he is not foreign to me. He is my husband, my family."

Cao and Rioual are among a growing number of mixed couples in China, and "a natural social phenomena", said Xu Anqi, a sociologist at the Shanghai Academy of Social Sciences.

Last year, 68,000 mixed couples registered for marriage, 4,000 more than in 2005.

Nationwide, 9.45 million couples tied the knot, an increase of 1.21 million, according to statistics from the Ministry of Civil Affairs.

"Frequent migration across borders, driven by the country's rapid economic growth, is a major reason behind the growing number of mixed marriages," Xu said.

"Also, foreigners who are traveling to or are working in China are mostly at the typical age to marry."

But the marriage rate is not the only thing changing. So are attitudes about interracial partnerships.

One is the common misconception about mixed marriages. "It used to be about Chinese women marrying Western men for money," Xu said.

"Now we see that love plays a more important role in mixed marriages.

"Also, don't be surprised to see more Chinese men getting married to Western women."

Official figures from Shanghai show that in the city alone, 372 Chinese men were in interracial marriages in 2005, up from 91 men 20 years earlier.

And a 2002 figure suggests the age difference was an average of about 5 years, narrowing from before.

But there are always challenges for couples in mixed marriages, and there are the little cultural differences that can lead to misunderstandings and friction.

"It is more difficult to adjust to each other when you are from a different group of people," Xu said.In 2005, 8,267 mixed couples filed for divorce, up 42 percent from 2004.