SHANGHAI: Dozens of Wahaha employees took to the street yesterday to protest the alleged takeover bid by Groupe Danone SA of its Chinese partner.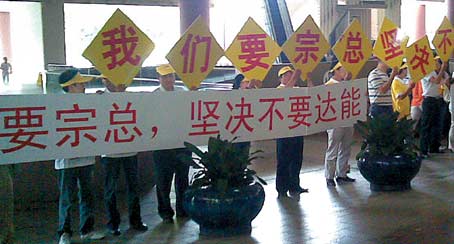 Wahaha employees in Shanghai hold a banner saying, "We want Zong Qinghou. We oppose Danone" June 12, 2007. The employees were angry over an alleged takeover bid by Danone of its Chinese partner. [China Daily]


Wearing yellow shirts and holding the banners, the protesters, who work for one of the companies' joint ventures, stood in front of a hotel where a Danone-organized news conference was scheduled, shouting "Oppose Danone" and "Boycott Danone".
"They expelled our boss," one employee said, referring to the recent resignation of Zong Qinghou, former chairman of the joint ventures and founder of Wahaha.
"We have been following chairman Zong for many years. We've learned from Danone's acquisition of Chinese beverage maker Robust that there is no happy ending for employees in a hostile takeover," another worker said, adding that the protests were spontaneous.
The group gathered at about 9 am yesterday and was dispersed by police one hour later.
Danone, which holds 51 percent of 39 joint ventures with Wahaha, presented a much different picture of its five-month dispute with China's largest beverage maker. The company accuses Zong of illegally producing and selling products identical to those sold by the companies' joint ventures, in violation of agreements between the two companies.
Emmanuel Faber, Danone's managing director for Asia and interim head of joint ventures, pointed out that Zong, walking away on his own volition, has once again used public opinion to serve his personal interests.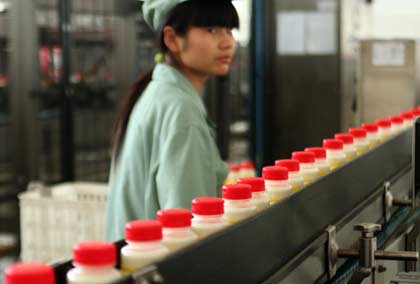 An employee works at a production line at a factory of Wahaha in Hangzhou, Zhejiang Province, May 14, 2007. [Newsphoto]


"This mode of interaction is really consistent with Zong's communication and strategy since the early part of the discussions," he told reporters during the news conference yesterday in Shanghai.
"Basically, he was trying to leverage media, the public, employees, distributors and the government to support his themes," Faber added.
Faber hinted that the protests yesterday were orchestrated by Danone's Chinese partner.
"You think the group of people that tried to prevent me from attending this news conference in front of this building has learned by themselves that Danone has a news conference this morning here?" he said.
"This simply means that there is obstruction being constantly made to the way that Danone can protect the interests of joint ventures and their shareholders, including the government of Hangzhou."
He added: "If I cannot freely access this public building, can you imagine if I'm trying to push open the door of (joint venture) factories just to be told that I cannot be there?"
Faber said Danone has no intention of taking further legal measures against the "unauthorized" businesses started by Zong, and it is convening board meetings with directors newly appointed by Wahaha after Zong's departure.
A channel remains open between Zong and Danone to address the dispute peacefully, Faber said. He spiked rumors that a third party has been involved in their search for a solution.
Fuel was added to the fire after the Paris-based company filed a lawsuit last Monday in US over alleged illegal sales in China by companies run by Zong's wife and daughter.
Zong resigned shortly after, and in an open letter he said two of the joint ventures' French board members - including Faber - had "insulted and framed" him during the 10-year partnership. He also alleges the French company poached employees from the joint ventures.
Faber fought back yesterday: "If you know Zong, it's hard to believe that he can be trapped, bullied or framed by whatever European wise guys."
He added that neither he nor other Danone managers ever gave instructions to hire or seek to hire employees from the joint ventures.
Open letters are circulating online claiming to represent all Wahaha employees and opposing the alleged hostile takeover. Faber questioned the letters' authenticity yesterday.
"The content of these letters does not indicate why these employees are worried," he said. "Their styles look like they are being written by one person."
The feud between Danone and Wahaha surfaced five months ago, when Zong publicly rejected a plan by Danone to buy out Wahaha's remaining assets beyond joint ventures for 4 billion yuan, accusing the French company of attempting a hostile takeover.