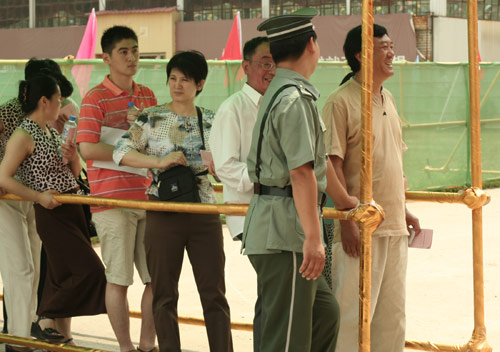 A security man talks with residents at the venue for a vote on demolition and reconstruction of old buildings in Juixiaqiao Sub-district in Beijing, June 9, 2007. Local government and the real estate developer jointly organized the vote to see if majority residents of over 5000 families accept the new compensation policy after failed attempts to reach an agreement through other ways.[Sun Yuqing/chinadaily.com.cn]

Beijing residents in a northeast community had the rare opportunity to vote on Saturday. The referendum was to decide the fate of their houses in Jiuxianqiao sub-district in Chaoyang District, Beijing as they cannot decide on how much compensation they should get from the estate developer.

The difference in opinions between the residents is so great that this urban renewal project has been postponed for over three years. As a result, the developer and district officials decided to hold a vote to finally move the project forward.

Six polls opened Saturday morning at 9:00am, with police and security placed around the polling stations.

While the organizers claimed things went well, there were already problems before voting started.

Before 9:00am, residents gathered outside one of the venues to voice their concerns to the media. A middle-aged woman said she hoped the project can begin as early as possible.

"We can't bear to live in those shabby houses any longer. We now need to share the toilet and it's dirty and a hard living. I'm old and I want to move in new houses before I die," said the women who declined to give her name.

But opponents emphasized that the current amount of compensation offered was not enough for them and they wanted the developer to cough up more money.

Meanwhile, in the venue, lines of people waited to cast their votes as flags and banners were decorated the site. At each ballot booth were two notary officials, who were responsible for checking the voter's documents, as well as five to seven observers. The observers were composed of representatives of companies that own the land property rights and residents' representatives. Polling was to close at 9:00pm Saturday and the results may be announced late on Saturday evening.

Problems

Some residents said the vote caused confusion. One middle-aged man complained the real purpose of this vote was to see if people agree to demolish the buildings according to the current compensation policy, rather than if people agree to demolish the buildings. In his view, some seniors might answer yes without knowing what they were voting for.

But an observer pointed out that that the ballot clearly said: "The result will decide the renewal process, please cherish your rights and cast a vote that truly means your intentions. Would you agree to continue the renewal project according to the supplemental notice? If "yes", please mark an "O", and if "no" please mark a cross."

However, for residents who rarely have such an opportunity to participate in such democratic decision-making, there were some misunderstandings. An aged man wearing glasses wanted to change his vote, but not after he had explained the reason why to the voting officials.

And at a ballot booth, several voters quarreled briefly with voting officials when they were not allowed to vote because they didn't bring all the necessary documents, including their original identification. One young man even ripped the ballot into pieces.

At the polling stations, bottled water was prepared for voters, and security men gave chairs to elderly voters to have a rest. One young man said he had to wait two hours before casting his vote.

| | | |
| --- | --- | --- |
| 1 | 2 | |