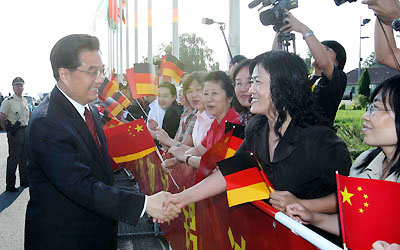 Chinese President Hu Jintao (L Front) shakes hands with a woman greeting him in Berlin, capital of Germany, on June 6, 2007. Hu and his wife Liu Yongqing arrived in Berlin by a special plane on June 6. He will attend a group meeting with leaders from Brazil, India, Mexico and South Africa on Thursday in Berlin, and the outreach session of the Group of Eight summit slated for Friday in Heiligendamm, northern Germany. [Xinhua]

BERLIN: President Hu Jintao arrived here last night to attend the outreach session of the Group of Eight (G8) industrialized nations' summit in northern Germany.

Hu will attend a multilateral meeting of the leaders of the Outreach Five developing countries - India, Brazil, Mexico and South Africa in addition to China - in Berlin today as well have a series of bilateral meetings.

The annual summit of G8 countries - Germany (the current G8 presidency), the United States, the United Kingdom, France, Japan, Italy, Canada and Russia - opened in Heiligendamm yesterday.

With the summit theme "Growth and Responsibility", G8 leaders will discuss global warming and African development among other hot issues.

Hu will present China's propositions on climate change at the outreach session.

There is quite a cloud hanging over this year's G8 summit, which is French President Nicolas Sarkozy's first, and British Prime Minister Tony Blair's last.

Apart from trying to tone down the war of words between the US and Russia on a proposed American missile defense system in Europe, the leaders are also likely to discuss Middle East peace, the Darfur issue, Iran's nuclear program, and the future of Kosovo.

However, G8 members do not appear to have reached a consensus on some issues. There are signs the Americans are starting to get serious about climate change, but it is unlikely that concrete measures limiting carbon dioxide emissions will be agreed on.

One topic, however, seems to be getting more attention than any other: security. A 12-km metal barrier was erected and 16,000 police deployed to ensure the summit is not disturbed.

Thousands of demonstrators marched through the harbor city, most of them peacefully.