Gold medals bagged by Chinese athletes in various international tournaments are evidence of the country's rise as a superpower in the world of sports, but don't reflect the current situation of its citizens' health.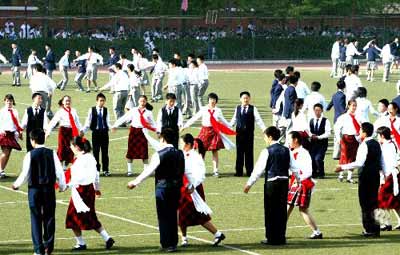 Students dance during a break in a high school in Beijing in this undated photo. [china.org.cn]


Of 12,891 students, only 883 students get a "clean bill" of health after a routine medical checkup for the upcoming National College Entrance Examination in Mian Yang, Southwest China's Sichuan Province, reported Xinhua Wednesday. That means only seven percent are considered healthy.

Physical education teachers across the country voiced their worries about the nation's declining health in a national physical instructors' meeting in May.

"Obesity and malnutrition are rampant among pupils, and there is a sharp deterioration of their health in comparison to elder students at their age," said Gao Bi, a PE teacher from Hefei, Anhui Province.

"One Japanese worker beat five Chinese workers in a trades skill contest a little while ago. We are not inferior due to our skills, but don't have enough stamina to win the competition," explained Fang Bangxie, a professor with Qinghai Normal University.

According to Fang's research, lacking awareness in a health issues like exercise, diet and lifestyle, are the prime contributors to the deterioration of people's heath.

"The government invested heavily in competition sports in the past, but now mass education must come first," Fang said.

An official with the General Administration of Sports echoes Fang's proposal and admitted public health deterioration has become a serious problem facing the nation.

"Students don't do sports because they have too much homework," continued Fang. "And adults hardly have any time for sports, because if there is any it will be taken up by their work."

The nation's health issue has the attention of the Ministry of Education and it has ordered all students in primary and secondary schools around the country to learn to dance and to perform a dance every day at school starting from the new semester beginning on September 1.

Fang doubts the effectiveness of the compulsory measure and he believes it is crucial to create a stress-free environment for students to enjoy doing sports.

It is reported that there are 430,000 physical instructors for more than 1.3 billion people, which means on average there is one PE teacher for every 3,000 people.