SHANGHAI - Chinese stocks rebounded in volatile trading Tuesday following their sharpest one-day drop in three months as strong buying by institutions offset selling by retail investors.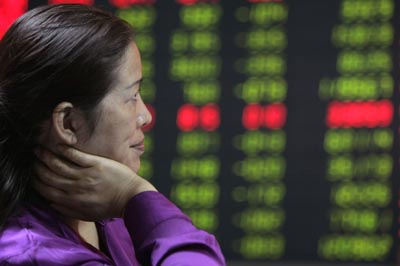 A woman looks at stock prices on an electronic board in Beijing June 5,2007. China's main stock index plunged 5.66 percent on Tuesday morning, bringing its losses since a hike in the stock trading tax last week to 20 percent. [Reuters]


The benchmark Shanghai Composite Index gained 2.6 percent to 3,767.10 after a rollercoaster session that saw the index plunge as much as 7.2 percent earlier in the day. It fell 8.3 percent on Monday - the benchmark's sharpest decline since an 8.8-percent drop February 27 triggered a global market sell-off.

The Shenzhen Composite Index for China's smaller second market rose 2.5 percent to 1,066.05.

Regional market reaction was muted, with Japan's benchmark index climbing 0.5 percent and Hong Kong shares up 0.7 percent by mid-afternoon.

Chinese investors had dumped shares Friday and Monday in reaction to a government decision last week to triple a tax on stock trades, viewing the move as a signal regulators are determined to cool frenzied trading that had lifted stock prices nearly 60 percent since the start of the year, following a 130 percent surge in 2006.

By Tuesday's close, the benchmark Shanghai index was 13 percent below its record high of 4,334.92, hit May 29. But it was still up 40 percent for the year so far.

China's stock markets are largely closed to foreign investors. Analysts attributed the sell-off Monday to panic-selling by individual retail investors.

The stock market boom has prompted millions of first-time investors to jump into the market, tapping savings and retirement accounts and mortgaging homes to buy stocks. Authorities are worried that the new money is fueling a bubble in prices.

Shifting to damage control, on Tuesday state-run newspapers carried prominent articles announcing the approval of four new investment funds.

Financial newspapers sought to reassure investors, asserting that the tax hike on stock trades would help the markets by encouraging longer-term investments in better stocks.

International stock markets have shrugged off the declines in mainland Chinese declines. Most Asian markets rose Monday, and Wall Street also eked out gains.

Economists say the recent fall in Chinese prices should have only a modest impact on the overall economy because China's growth is driven by exports, not the financial markets, and families have still much more money in savings than in shares.