TAIPEI - Taiwan's Ma Ying-jeou, a "presidential" hopeful in the leading opposition Kuomintang, vowed Monday to end hostility with mainland and inaugurate direct transportation links if elected in the 2008 polls, an AFP report said.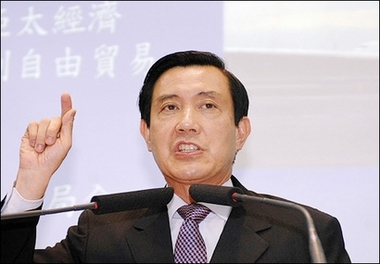 Former Taipei mayor Ma Ying-jeou, pictured May 2007, the "presidential" candidate for Taiwan's leading opposition Kuomintang, on Monday vowed to end hostility with rival Chinese mainland and inaugurate direct transportation links if elected in the 2008 polls. [AFP]


Ma, former Taipei mayor, said he would give top priority to forging a peace agreement and a military confidence-building mechanism with Beijing, according to the report.

"If elected, I would immediately engage in talks with (the mainland) on the basis of the '1992 consensus'," he was quoted telling a group of Taiwan businesspeople, referring to an agreement reached between the former KMT government and Beijing in 1992.

According to the verbal agreement, both sides agreed there was one China with different interpretations.

Taiwan's "independence"-leaning Democratic Progressive Party has rejected the agreement since it won elections in 2000, ending the KMT's 51-year grip on power.

He said he also hoped for closer economic ties with the mainland, including the opening of the "three direct links" -- transportation, commercial and postal services which have been cut since 1949.

DPP "presidential" candidate Frank Hsieh has also agreed to inaugurate the three links but said Taipei and Beijing must face each other as equals.

Cargo and passenger services do exist through third parties, mainly Hong Kong.

Despite the lingering political standoff, Chinese mainland has been Taiwan's largest trading partner since late 2002 and the island's businesspeople have been major investors on the mainland.

Bilateral trade in 2006 rose to US$88.12 billion, up 15.4 percent according to figures released by Taiwan's "Board of Foreign Trade".