Three people were confirmed dead and more than 300 injured when an earthquake with a magnitude of 6.4 hit the region surrounding Pu'er city in Southwest China's Yunnan Province early yesterday morning.
About 186,000 people have been affected by the quake, the strongest in Yunnan Province since 1996, when a temblor with a magnitude of 7 struck the tourist city of Lijiang.
Yesterday's 5:34 am quake shook the old town of the Hani and Yi Autonomous County of Ning'er, about 80 km from Pu'er, according to the China Earthquake Administration.
It was followed by more than 300 aftershocks, the strongest measuring 5.1, the local seismic bureau said.
Related readings:


Quake-resistant homes to be built
Yunnan Province yesterday launched a 10-year project to reinforce houses in rural areas to withstand the force of destructive earthquakes.


Experts closely monitoring situation
A strong earthquake that killed three and shook up thousands of others yesterday morning in Yunnan was "no surprise" to seismological officials, who claimed the southwest province experiences 40 percent of the country's perceivable tremors.


Hu orders all-out efforts into earthquake rescue


Strong earthquake in southwest China kills 3


Animals to be used as quake sensors


Strong quake hits East China Sea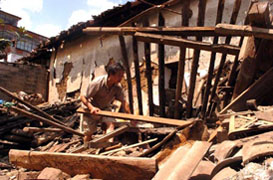 A local resident clears the debris of his house following a strong earthquake in Ning'er, Southwest China's Yunnan Province, June 3, 2007.[Xinhua] more photos

Many houses in rural areas collapsed, communication networks broke down, and water and power supplies affected.

Roads leading to the epicentre Ning'er were severely damaged. Stones lay piled and some roads even turned into the shape of stairways, China News Agency reported.

A spokesperson for the Yunnan provincial civil affairs department said about 120,000 people were evacuated and temporarily resettled.

President Hu Jintao, Premier Wen Jiabao and Vice-Premier Hui Liangyu have asked local governments to make every effort to help local people resume normal life.

A working team sent by the State Council arrived at the area yesterday afternoon to investigate the damage and assist in rescue work. The Ministry of Civil Affairs also sent a working group and 5,000 tents.

The Yunnan provincial civil affairs department has sent tents, quilts and clothes, while the government of Pu'er has allocated 1 million yuan ($130,000) for disaster relief.

Hours after the quake, parts of the communication network were restored, and the highway between Mohei and Pu'er reopened, said Cun Qiang, vice-mayor of Pu'er.

The highway linking Ning'er and Dehua is being repaired, Cun said.

Medical teams were rushed to the county; and a doctor who works for the People's Hospital of Pu'er said: "We have two more medical teams on standby, ready to leave for the area at any minute."

Local hospitals treated more than 300 injured people and of the 28 severely injured, 20 have been transferred to city-level hospitals, which usually have better facilities and more skilled doctors.

Some residents jumped from their apartments in high buildings and got hurt.

The county of Ning'er, covering an area of 3,670 square km, has a population of 190,000. It is part of Pu'er, which was called "Simao" before it was renamed on April 8. In Chinese, Pu'er is better known as a variety of tea; and half the city's population is said to be in the tea-making industry.

Residents in Lincang and Xishuangbanna in the south of the province, about 200 and 300 km from the epicenter, also felt the tremor.

Xinhua contributed to the story

(China Daily 06/04/2007 page1)