Residents in eastern Chinese city of Wuxi rushed to buy bottled water after tap supplies became putrid from algae blanketing a nearby lake, and scientists said the outbreak could last for months.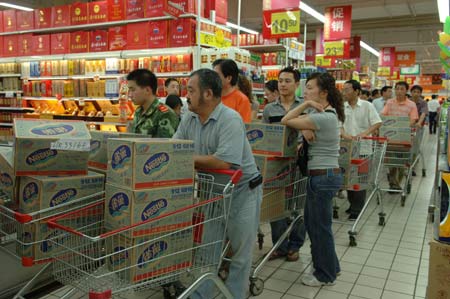 Customers queue to buy bottled water at a supermarket in Wuxi, East China's Jiangsu Province, May 30, 2007. [newsphoto]


The level of Taihu Lake in Jiangsu province was at its lowest in 50 years and blue-green algae had spread, leaving the water that usually supplied Wuxi undrinkable, Xinhua news agency said on Thursday.
Panicked Wuxi city residents stripped supermarkets clean of bottled water and small shops raised prices, local newspapers reported.
The volatile mix of pollution, thirsty citizens and health worries echoed a panic in late 2005, when millions of residents of Harbin in northeast China had tap water cut off for weeks after a toxic spill in the Songhua River affected drinking water.
Yang Weize, party secretary of Wuxi, a thriving Jiangsu industrial and tourism centre with an urban population of more than 2.3 million, vowed on Wednesday to guarantee safe drinking water "at all costs", Xinhua said.
An unnamed spokesman for the city government told a local newspaper that about one-third of residents still had tap water untainted by algae. Officials have been constantly monitoring the lake and ensuring bottled water is available, he said.
Many of China's lakes and rivers are threatened by run-off from fertilisers, dumped industrial waste and untreated sewage. Algae blooms can burst out in water rich in nutrients from farm and domestic run-off. Xinhua cited experts as saying low water levels this year had encouraged the outbreak.
Taihu Lake is the country's third biggest, covering 2,338 square km, according to the Ministry of Water Resources. Levels of pollution from farm and industry run-off have risen in recent years, the ministry has reported.
A research station that monitors the lake said a few days ago that the algae had been "exploding" for a month.
"The foul water quality is seriously affecting urban residents' work and life," said the report, posted on the website of the Chinese Academy of Sciences station . It blamed unusually warm water and pollution flowing into the lake.
"In coming months, as the water temperature of Taihu Lake continues to rise, if the water level remains where it is now, the scale of the algae bloom will expand and could last four to five months," it said.
Wuxi would try to artificially induce rain to flush the lake, and the provincial government had agreed to divert more water from the Yangtze River, Xinhua said.