A Chinese campaign to clean up online pornography has reached college campuses with the Education Ministry lashing out at some school bulletin board systems (BBS) for making money from porn.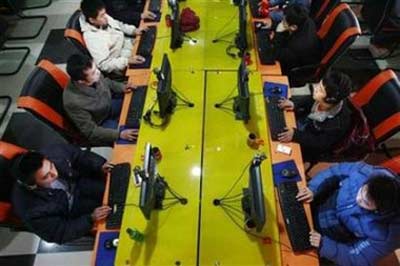 People use computers at an Internet cafe in Suining, southwest China's Sichuan province in this January 11, 2007 file photo. A Chinese campaign to clean up online pornography has reached college campuses with the Education Ministry lashing out at some school websites for making money from porn. [Reuters]


"We strongly condemn Web site hosts for making 'unlawful' money by distributing pornographic information," Vice-Minister of Education Li Weihong said.
"Student netizens are easily influenced and perverted by such information as they are still in their formative years and do not have a solid grip on the right values," she said.
Li said the ministry would open a section on its website for the public to report on campus websites and is drafting guidelines to regulate campus Internet services.
She also called on college instructors to be Internet experts to "get to know the mentality of today's students from the net".

Media reports have said that nearly half of the 23 million minor Internet surfers in China visit porn websites.
To offer the youngsters a clean Internet, the Ministry of Public Security and nine other government departments launched a six-month campaign in April to crack down on online activities such as distributing pornographic materials and organizing cyber strip shows.

A report from the Ministry of Public Security released over the weekend showed that the anti-porn campaign had shown results.
From April 12 - when the campaign started - to May 15, police authorities have blocked more than 4,800 porn websites and advertisements. Nearly 160,000 bits of online information, including 90,000 about pornography and others on illegal gambling and drug selling, have also been filtered during the period, the report shows.
Police also cracked 244 online porn crimes and caught more than 270 suspects by mid-May, according to the report.
"It has been a people's war," said Zhang Xinfeng, vice-minister of public security. He added that police authorities across the country had received more than 12,000 public reports on porn websites.
Zhang said according to police investigations, more than 90 percent of the porn contents, such as pictures and movies, are from abroad, especially Chinese-language porn websites based in other countries.
But the government can only block the foreign websites because it cannot shut them down.
The vice-minister also revealed that the government would assign more "virtual cops" to monitor and wipe out online porn. The experiment is confined to nine cities and the ministry said it planned to expand it to 100 cities.