HAMBURG, Germany -- Chinese Foreign Minister Yang Jiechi on Monday met with his European and Asian counterparts on the sidelines of a two-day Asia-Europe Meeting (ASAM) in Hamburg.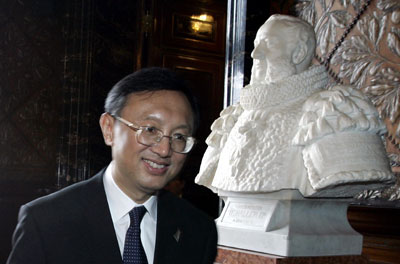 Chinese Foreign Minister Yang Jiechi arrives for the European Union Troika-China meeting ahead of the 8th ASEM Foreign Ministers meeting in Hamburg May 28, 2007. [Reuters]


While meeting French Foreign Minister Bernard Kouchner, Yang said China is ready to work with France to further develop the China-France comprehensive strategic partnership as agreed in a recent phone call by Chinese President Hu Jintao and the new French President Nicolas Sarkozy.

Kouchner, on his part, said France hopes the two sides could maintain an exchange of visits by senior officials and the two sides should expand cooperation in trade and technology.

France would like to hold more talks with China over key international and regional issues, he said.

France will always stick to the one-China policy, said the minister.

In his meeting with Japanese Foreign Minister Taro Aso, Yang said sustaining the healthy and stable development of Sino-Japanese relations is in the fundamental interests of both countries. However, an appropriate solution to the issues concerning history and Taiwan is the basis of the bilateral ties, he said.

China would like to strengthen bilateral ties with Japan by expanding cooperation and enhancing political trust as agreed by Chinese Premier Wen Jiabao and Japanese Prime Minister Shinzo Abe during Wen's visit to Japan in April, the Chinese foreign minister said.

Aso said Japan will continue to abide by the principles of the Japan-China Joint Statement, the Japan-China Treaty of Peace and Friendship and the Japan-China Joint Declaration.

Japan will seek to find proper solutions to the issues of concerns, Aso said

Yang and Pakistan Foreign Minister Khurshid Kasuri hailed the traditional friendship between the two countries, vowing to expand cooperation in more fields.

When meeting Indian Foreign Secretary Shivshankar Menon, Yang said developing a stable, good-neighbourly relations with India is the established policy of China.

China is willing to hold more talks with India over important issues to enrich the China-India strategic cooperative partnership, Yang said.

Menon said India is ready to work with China to further expand trade cooperation and to have dialogue with China over international issues.

Yang met with Thailand Foreign Minister Nitya Pibulsonggram, saying the two sides should take the chance of the current visit by Thai Prime Minister Surayud Chulanon to Beijing to further strengthen the bilatereal ties.

Yang agreed with South Korean Foreign Minister Song Min-soon to cooperate even more closely to solve the nuclear issue on the Korean Peninsular through the six-party talks.

Yang also met with Latvian Foreign Minister Artis Pabriks and British Minister of State Ian Mccartney.