China hit back at a Pentagon report on its rising military might on Monday, saying it was exaggerated and an interference in Chinese domestic affairs.

"The Pentagon report exaggerates China's military strength and expenditure with ulterior motives," the Foreign Ministry said in a statement posted in its Web site (www.fmprc.gov.cn).

"It continues spreading the 'China threat' theory, seriously violates the norms of international relations and is a gross interference in China's internal affairs," it added. "The Chinese side expresses strong dissatisfaction and resolute opposition to this."

The U.S. Defense Department report released on Friday said that while Beijing remained focused on the Taiwan Strait as a potential flashpoint, it also appeared to be looking to project its growing military strength elsewhere.

Not so, China's foreign ministry said.

"China is a peace-loving country which sticks to a path of peaceful development and adopts a defensive national defense policy," it said. "The international community has a fair judgment that China is an important force in promoting peace in the Asia-Pacific and in the world."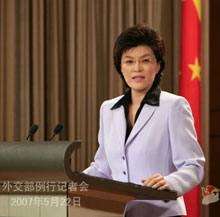 Jiang Yu, spokeswoman of the Ministry of Foreign Affairs, speaks at a regular press conference in Beijing in this May 22, 2007 photo. [fmprc.gov.cn]

In March, China said it would boost defense spending by 17.8 percent to about $45 billion in 2007.

"It is the responsibility of any sovereign country to conduct necessary national defense build-up to safeguard national security and territorial integrity," the foreign ministry statement added.

"The report's whipping up the 'China threat' theory is completely wrong and will be in vain."

"Taiwan is an inalienable part of Chinese territory and China firmly opposes any country that interferes in China's internal affairs through any means," she said.

"The Chinese government adheres to the principles of peaceful reunification and 'one country, two systems.' We will show our utmost sincerity and do our best in seeking peaceful reunification of the motherland but we will never tolerate 'Taiwan independence' and allow any secessionist activities."

"We urge the United States to adhere to the one-China policy adn the three joint communiques, oppose 'Taiwan independence', stop selling weapons and sending any wrong signals to Taiwan secessionists," Jiang said.