Beijing now has 3 million registered vehicles, and that is good and bad news both.
On the one hand, the newly released figure reflects the city's fast economic growth. But on the other, it has aroused a lot of concern among people, who call themselves "desperate commuters" because of the poor traffic condition in the city and on the expressways.
Though Beijingers are quite familiar with traffic snarls, they hate being stuck on the road on their way to office or home.
Besides, parking is a growing problem because the city has enough space to park just 1.4 million cars, that is, less than half the number of registered vehicles.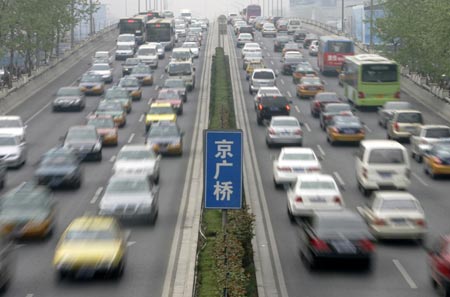 Vehicles are seen on the 3rd ring road during rush hour in Beijing April 18, 2007.[Reuters]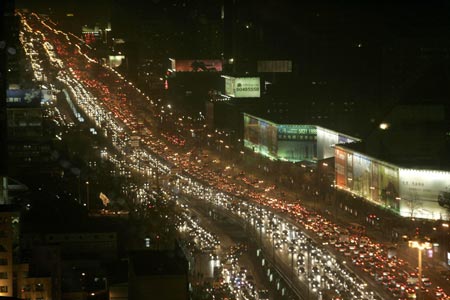 A general view of heavy traffic on the 3rd ring road during rush hour in Beijing January 22, 2007. [Reuters]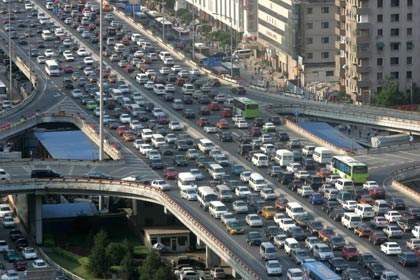 A traffic jam is seen during the rush hour in Beijing June 14, 2006. [Reuters]

It took less than four years for the number of vehicles to jump from 2 million to 3 million. Half a century ago, the capital's streets had only 2,300 cars. By 1997, their number had reached to 1 million, and it took six years for that figure to touch 2 million.

A recent Sina.com survey showed 55 percent netizens considered the 3 million vehicles bad news, with 31 percent fearing the environment would worsen and 25 percent worrying that traffic movement could become more frustrating. Only one-fifth of the respondents were delighted with the news, with the rest giving a mixed reaction.

Mayor Wang Qishan has said the number of vehicles symbolizes the city's prosperous and fast development.

And the government is confident of facing the challenge and improving the flow of traffic, he said.

"Three million is a milestone, indicating the level of private car use in Beijing and first-tier cities in developed countries. At present, one household in Beijing owns 0.7 vehicle."

"But, the use of public transport is at a lower level in Beijing. In New York City, public transport shares 76 percent of the total traffic flow. The number is 91, 40 and 70 percent in Tokyo, London and Paris, respectively. But in Beijing it's still 29 percent."

Lu Huajin

Director of Transportation Research Institute at Tsinghua University

"The increase in the number of vehicles should be under control in accordance with the traffic."

Jia Xinguang

Auto policy and market researcher

"The use of vehicles should be tightened. But purchase should be left free. By raising parking fees in busy districts and during peak hours, the flow of traffic could be improved and congestion lessened. This is a common practice in metropolises across the world."

Zhang Jianfei

Deputy director of the planning research institute, under the Ministry of Communications

"Obviously, more jobs will be created in the car-cleaning and polishing industry. But this benefits will come at the cost of higher emission and road hazard."

An anonymous netizen

(China Daily 05/28/2007 page2)