A pensioner surnamed Wang hesitates in front of a fridge at a Shouhang Superstore in Beijing, comparing the price labels of pork and other meat. "I'm eating less pork than I did a week ago," he said. "It is becoming unaffordable."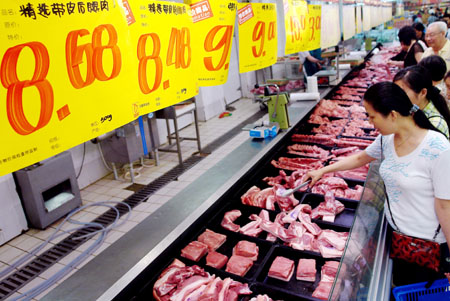 Customers buy pork at a supermarket in Zhengzhou, Central China's Henan Province, May 22, 2007. [newsphoto]


In this grocery store, pork belly is priced at 16.8 yuan per kilogram, while 10 days earlier it was about 12 yuan.
Figures on the website of the Ministry of Agriculture show the pork price on average in China increased 69.5 percent compared to last year, and the prices have risen daily. On May 23, the price was up 2 percent from the previous day.
Eggs and chicken are also becoming more expensive. In a convenient store called Dia, Eggs are sold at 4.2 yuan per kilogram, which is 35 percent higher than a week ago, and the sales volume of eggs dropped dramatically 70 percent, according to a shop assistant surnamed Wen.
Official figures show that in China's 36 major cities, the pork price increased 4.4 yuan per kilogram to 14.5 in the first 20 days of May.
A vegetable vendor at a Beijing market told China Daily website he just stopped eating pork because it was too expensive for him. A restaurant in Beijing called Tian He Sheng changed its menu, increasing the prices of pork dishes by 10 percent. And some bacon factories in Southwest China's Yunnan Province have closed their doors after the price hike.
"It seems like the pork price is on the stock market," said Gao Hong, another shop assistant in Dia, adding that today's pork price was the highest price she had ever seen.
One reason for the price hike, according to explanations from the Ministry of Agriculture, is a significant drop in the supply of live hogs caused by a fever among pigs in Shandong, Henan and other pork-producing provinces.
The cost of raising pigs has also risen sharply in the last few months, according to an investigation by Foodqs.com. The website said the prices of corn and other major ingredients of feed for pigs, rose 34 percent in past months this year.
Though price of other food and commodities remain fairly stable, officials warn of possible inflation in the market. China's consumer price index (CPI), a major indicator for inflation, reached the alarming level of three percent in April. In China, food products account for 33 percent of the CPI, with meat, poultry and related products, about 20 percent.
Some government departments are reportedly dispatching inspectors to pork markets around the country to investigate price rises.
Li Xizhen, head of market monitoring and regulation section under the Ministry of Commerce said, "The Ministry will closely follow changes in the pork market. National pork reserves will be used if it is necessary."