Linfen -- The local government is determined to take every measure to stem serious coal mine accidents that cause more than 10 deaths a year, said Mayor Li Tiantai on Tuesday.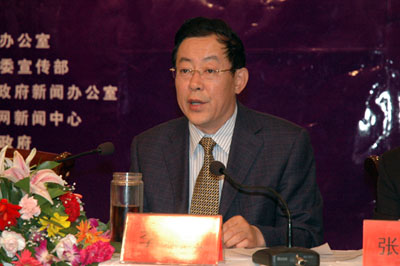 Linfen Mayor Li Tiantai speaks to online media reporters during a press conference on May 22, 2007. [chinadaily.com.cn]


Those departments failing to efficiently supervise production safety will be punished, Li said. "Linfen is one of the most coal-rich areas in Shanxi Province with a large number of coal mines. It is one of our priorities to make sure that no serious coal mine accident takes place in Linfen."

He acknowledged the difficulties in developing and managing coal mine enterprises due to the number of coal mines, but stressed the government has gone a long way to tackle safety problems.

"Large companies are encouraged to merge with small ones to make better use of resources and to provide better regulations for production safety. Besides, we attach great importance to environmental protection alongside wealth creation. Instead of unscientific exploitation for low returns, we now advocate sustainable development to protect coal resources." Li told the reporters.

A gas explosion at Pudeng coal mine accident in the city's Puxian County during the past Labor Day holiday killed 28 miners and injured 23 -- the second accident in six days. Li said the accident seriously impacted the city's residents , and a group with the State Council is still investigating the explosion.

Pudeng Coal Mine, has an annual production capacity of 150,000 tons. The village set it up in 1986 and then the mine became a private venture three years ago.

Shanxi has coal reserves topping 264 billion tons, amounting to 26 percent of the national figure. It produces about 600 million tons of coal a year.