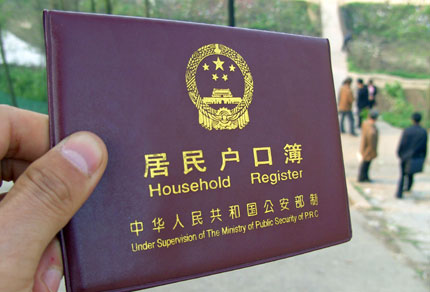 A resident from Yichang, Hubei Province, shows the household register in this undated file photo. The household registration system, or hukou, has become an obstacle to the development of market economy, experts said. [newsphoto]


When Du Yumeng was born in December 2005, she was probably not aware that she had been classified into a different category from other babies - a category which includes people toting wheelbarrows of fresh fruit, selling steamed buns from a corner booth or peddling phone cards. They all share one thing in common - a rural 'hukou', or household registration.

Related readings:


Study raises questions about hukou


Nation poised to reform hukou


China debates reform of household registration


Hukou blamed for compensation discrepancy


City 'Green Card' discourages migrants


Hukou blamed for compensation discrepancy


When will all hukou restrictions be lifted?


Government to revise residence regulations

Set up in 1958 in order to control mass urbanization, China's hukou system effectively divides the population in two - 'the haves' (urban households) and 'the have not's' (rural households).

Under the system, rural citizens have little access to social welfare in cities and are restricted from receiving public services such as education, medical care, housing and employment, regardless of how long they may have lived or worked in the city.

Even though Yumeng's parents had been working in Beijing for 10 years, she had to be born back in her father's hometown of Shuangfeng Village, Anhui Province. This was primarily due to her parents' lack of access to services in Beijing and the need for a birth permit from Shuangfeng, where the hukou is registered.

Aged 31, Yumeng's father, Du Shujian, receives a monthly income of 2,000 yuan ($250 dollars) as an interior construction worker. He has been deprived of urban medical and social welfare ever since he arrived in Beijing 10 years ago.

What's more, because of the restrictions of the hukou system, Du is prohibited from buying an affordable house in Beijing - you need a Beijing hukou for that.

"I have decorated so many apartments for Beijing citizens, but I don't know when I can have my own," Du said.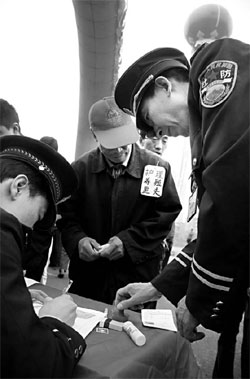 Local police help migrant workers with their temporary residency at a job market in Shenyang, Northeast China's Liaoning Province last week. [newsphoto]

"And my daughter - I feel sorry for her as she had no choice but to have the same rural hukou as me, though she is too young now to know what it means for her."

The evidence of China's economic success is clear for anybody to see, with a forest of construction cranes permeating almost every major city. This however, has only exacerbated the problem of urbanization, by drawing more and more rural dwellers off their farms and into the city in search of a better life.

The subsequent expansion of the service industry in the cities, in line with the expanding middle class, has created a vacuum in the secondary sectors that rural laborers hope to fill.

Government figures estimate that there are about 120 million migrant workers who have moved to cities in search of work, though the real figure could be much higher.

Beijing has borne the brunt of this mass urbanization as the city spawns building after building in preparation for the 2008 Olympics. A growing number of migrants like Du who relocate to find better jobs here tend to stay longer or even resettle with their entire families.

A study by the Renmin University of China revealed that this 'floating population' in Beijing, currently stands at over 3.5 million, with most staying an average of five years in the city.

Ruminating reform

As China is struggling with the social effects of a widening rural-urban divide, there have been growing calls to reform the hukou system, owing to the fact that millions of farmers have illegally started moving to towns and cities in order to find work.

In a week-long poll conducted in March by website Sina.com and the China Youth Daily social survey centre, 92 per cent of the 11,168 respondents said that the system was in need of reform.

More than 53 per cent said restrictive policies attached to the system, such as limits on access to education, healthcare, employment and social insurance should be eliminated. More than 38 per cent called for the system to be scrapped entirely.

"Hukou has played an important role as a basic data provider and for identification registration in certain historical periods, but it has become neither scientific nor rational given the irresistible trend of migration," Professor Duan Chengrong, director of the Research Center for Population and Development at the Renmin University of China, said.

At a national public security conference on March 29, officials from the Ministry of Public Security proposed a way to deal with the inequalities across Chinese society and bridge the divide.

The conference suggested eliminating the two-tiered household registration system and to allow freer migration between the cities and the countryside.

| | | |
| --- | --- | --- |
| 1 | 2 | |