China to launch lunar probe this year
(Xinhua)
Updated: 2007-05-21 06:35
Beijing- China was "losing no time" in preparing its first lunar orbiter, Chang'e I, which will most likely be launched in the second half of 2007, a space official said here on Sunday.

"The moon probe project is the third milestone in China's space technology after satellite and manned spacecraft projects, and a first step for us in exploring deep space," said Sun Laiyan, chief of the China National Space Administration.

Sun, also vice director of the Commission of Science Technology and Industry for National Defence, made the remarks when briefing students at Beijing Jiaotong University on China's space program.

China's moon exploration program is divided into three phases -- "circling the moon", "landing on the moon" and "back to earth", said Sun.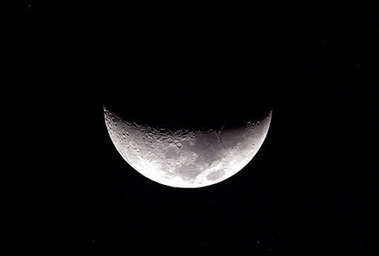 This image released by NASA in 2003 shows a partial moon that was photographed by an Expedition 7 crewmember from the International Space Station. China aims to launch its first lunar orbiter later this year, part of a three-step plan it hopes will eventually see moon samples brought back to Earth.[AFP]

The launch of the orbiter is the first phase of China's moon exploration program, and the second phase will involve the launching of a moon rover, he said. Earlier reports said the moon rover will be launched around 2012.

In the third phase, another rover will land on the moon and return to earth with lunar soil and stone samples, Sun said.

"Space activities combine advanced technology, heavy investment, big profits and high risks," Sun said, adding that only 48 percent of the world's lunar probing projects had succeeded.

"However, the returns (of space activities) are huge, in terms of politics, economy, military and convenience brought to everyday life," he said. "For one dollar invested in space science, you can expect direct and indirect returns of at least seven dollars."
In addition to moon exploration, Sun said China will continue the research on manned space missions, including a space walk and experiments to link passing spacecraft.

China carried out its maiden piloted space flight in October 2003, making the country the third in the world following the former Soviet Union and the United States to have put men into space. In October 2005, China sent its second manned spacecraft into space, with two astronauts on board.

China will also build 12 "Compass" satellites, rendered as "Beidou" in Chinese, part of a space navigation and positioning system that can provide service to China and its neighboring countries. It will expand into a global positioning system with 30 satellites in the future, Sun said.

China is one of the few countries that are capable of developing navigation satellite system on its own. Previous reports said it will provide clients with positioning accuracy within 10 meters, velocity accuracy with 0.2 meter per second and timing accuracy within 50 nanoseconds.

Five "Compass" satellites have been launched since 2000. The latest entered the orbit in last month.

Sun said every small move in the space is of strategic importance and affects state security.

"Space technology reflects a nation's overall power and is an important facet of the modernization of national defense," he said.

However, he reiterated the country's stance on peaceful use of the space. "China's space mission is to benefit the entire human race by peacefully using the outer space," he said.

Most Commented/Read Stories in 48 Hours