Attempts to politicize next year's Beijing Olympic Games by linking it to the Darfur issue in Sudan will not succeed, Foreign Minister Yang Jiechi warned on Friday.
"There are a handful of people who are trying to politicize the Olympic Games," Yang said at a joint news conference with visiting British Foreign Secretary Margaret Beckett in Beijing.
"This is against the spirit of the Games. It is also running against the aspirations of all the people in the world.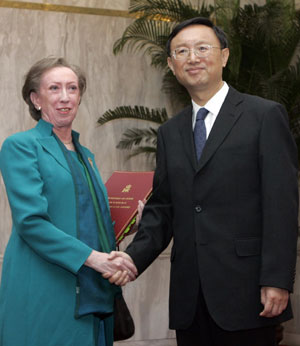 China's Foreign Minister Yang Jiechi (R) shakes hands with Britain's Foreign Secretary Margaret Beckett in Beijing May 18, 2007.[Reuters]

"Their objectives will never be attained."

Yang's first public comment on the Darfur crisis in Sudan since taking office last month came as a campaign gathered steam to use the Olympics to put pressure on Beijing to do more to stop the violence.

"On the Darfur issue, the position of the Chinese government is consistent and well known," Yang said.

"We hope that this issue will be resolved properly through dialogue and negotiation."

He added China believes "the political process and the peacekeeping operation should be promoted in a balanced manner".

Yang told reporters China and the UK have agreed to launch consultations on the issues of South Asia and Africa in the near future.

He spoke highly of the contributions of outgoing British Prime Minister Tony Blair has made in promoting the China-UK relationship, saying: "The Chinese government is looking forward to cooperating with the British government, led by the Labor Party with Gordon Brown as the new prime minister."

Speaking at the news conference, Beckett said the Brown administration will continue to promote the development of China-UK relations. "He has been a very senior and very powerful figure in the British government for some 10 years. He strongly shares the view of Prime Minister Blair on the importance of relationship with China," she said.

When asked about the stalled Six-Party Talks on the Korean Peninsula nuclear issue, Yang said the most pressing issue that needs to be resolved at the moment is the Democratic People's Republic of Korea -related fund in the Banco Delta Asia bank in Macao.

"Relevant parties are making intensive efforts to seek a solution to the matter," Yang said. "We hope to see an early and proper settlement of that issue so that the process of the Six-Party Talks will continue."

Yang also spoke about the upcoming second round of the Economic Strategic Dialogue between China and the United States next week in Washington.

"We strongly believe that, as long as both sides make joint efforts to seek common interests and properly handle the frictions and differences in trade, the Sino-US economic relations will proceed further healthily," he said.