China's foreign minister warned Friday that attempts to politicize Beijing's Olympic Games next year by linking them to the Darfur crisis in Sudan or other issues are doomed to fail.
"There are a handful of people who are trying to politicize the Olympic Games," Yang Jiechi said at a press briefing with visiting British Foreign Secretary Margaret Beckett. "Their objectives or the target they are seeking to achieve will never be attained."
Certain countries said China is not using its influence to do more to stop the Darfur crisis.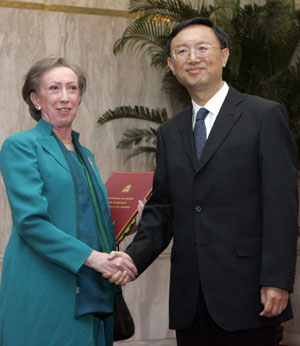 China's Foreign Minister Yang Jiechi (R) shakes hands with Britain's Foreign Secretary Margaret Beckett in Beijing May 18, 2007.[Reuters]

Yang said China believes "the political process and the peacekeeping operation should be pursued and promoted in a balanced manner."

Beckett Thursday praised China's role on Darfur issue, calling more efforts from the international community.

"I noticed there have been some criticism of China, but actually China has played a really quite positive role, particularly in the negotiation of the Darfur peace agreement," Beckett told a press conference at the Ambassador's residence in Beijing.

China has designated a special representative on African affairs and decided to dispatch a 275-member multifunctional engineering troops to participate in the implementation of the second phase of the Annan proposal.

The Annan proposal, put forward by then UN Secretary-General Kofi Annan, is a three-phase support plan aimed at deploying a combination of African Union and UN peacekeeping force in the Darfur region.

Beckett said China, along with all the rest of the international community, very much regrets that peace agreement has not been implemented by the government of Sudan.

Beckett arrived in Beijing Wednesday morning for a six-day official visit to China. This is Beckett's first visit to China as British Foreign Secretary.