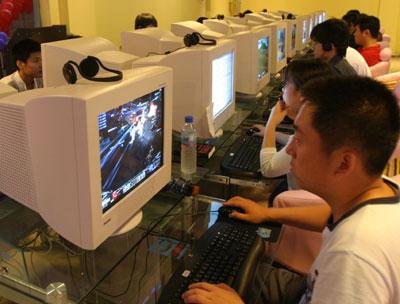 Chinese netizens play games at an internet bar in Changchun, Northeast China's Jilin Province in this file photo. [newsphoto]
China recorded a netizen population of 144 million by the end of March this year, vice information industry minister said on Thursday.
Xi Guohua said by 2010, the figure is expected to reach 200 million, with an average annual growth of eight percent.
Broadband service users number 97 million nationwide at the present time, Xi added.
Of the Chinese netizens, young people, teenagers in particular, account for a large proportion.
"Unhealthy information flow on Internet will do harm to young people both physically and psychologically," Xi said.
Xi called for healthy content to be provided for Internet and net-based porn to be cracked down upon.
In a related development, Bo Fusuo, an official in charge of economic operation under the Ministry of Information Industry, said Thursday that by 2010, the information industry will be able to garner 10 trillion yuan (1.3 trillion U.S. dollars) in revenue, with an average annual growth of 17.6 percent.
And the sector's added value will grow at an average annual rate of 15 percent to reach 2.6 trillion yuan (337.7 billion U.S. dollars) by 2010, accounting for 10 percent of China's GDP.