Ten Chinese sailors were among those captured by suspected pirates when they seized two South Korean-owned fishing ships off Somalia, Xinhua News Agency reported Thursday.
The Chinese Embassy in Kenya was urgently trying to learn the condition of the sailors and secure their release, according to the report.
Twenty-two sailors were aboard the two ships when they were seized Tuesday. The other nationalities onboard were South Korean, Indian and Vietnamese, the report said, without giving a specific breakdown.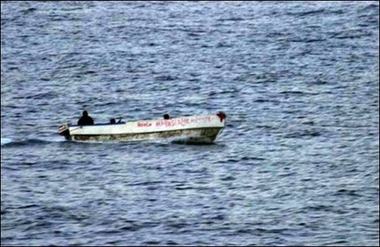 A suspected pirate sails off the Somali coast in 2006. Gunmen have seized two South Korean-owned fishing ships and taken their crews hostage in the Indian Ocean off the coast of Somalia.[AFP]
The Xinhua report quoted Andrew Mwangura, coordinator of the Mombasa, Kenya-based Seafarers Assistance Program.
China's Foreign Ministry could not immediately confirm the report. A duty officer who refused to give her name said the incident was being investigated.
The South Korean Foreign Ministry has said about 30 people, including four South Koreans, were aboard the ships when they were taken about 180 nautical miles off Somalia.
South Korea said the vessels were registered in Tanzania and were on their way to Yemen from the Kenyan port of Mombasa. They were identified by Xinhua as the Mavuno 1 and Mavuno 2.
Somalia lies close to crucial shipping routes connecting the Red Sea with the Indian Ocean, where valuable cargo and carriers must pass.
The country's 3,000-kilometer (1,880-mile) coastline makes it difficult to prevent attacks. Somali pirates are trained fighters, often dressed in military fatigues, using speedboats equipped with satellite phones and Global Positioning System equipment.