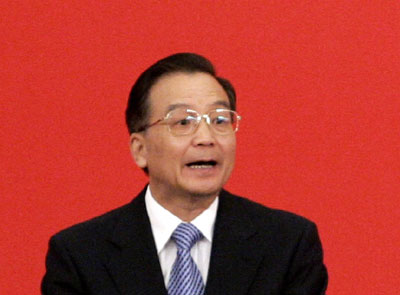 Chinese Premier Wen Jiabao delivers opening remarks at the opening ceremony of the annual meetings of the Boards of Governors of the African Development Bank Group held in Shanghai, May 16, 2007. [Reuters]
Premier Wen Jiabao pledged that China would further reform its currency controls and take steps to resolve problems ranging from the nation's growing trade surplus to its soaring foreign exchange reserves.
China's overall economic outlook was positive, he said at the opening of the African Development Bank's annual meeting in Shanghai, and promised that Beijing would make interest rates more flexible while using all available options to control growth of its money supply and ensure economic stability.
"There are some problems. We face excessive liquidity, an imbalance in the balance of payments, and rapid accumulation of foreign exchange. But we are taking measures to deal with these issues," Wen said.
"We are fully confident and capable of resolving the problems and maintaining sustained, stable and sound growth of the financial sector," he said.
Wen reiterated Beijing's vow to let markets play a greater role in setting the yuan's value.
"We are deepening reform of the foreign exchange management system to improve the mechanism of setting the (yuan) exchange rate and give greater scope to the role of the market and introduce greater interest rate flexibility," Wen said, without giving details.
Beijing has adamantly defended its currency policies in the run-up to a meeting of top Chinese and U.S. trade officials next week in Washington.
On Tuesday, a senior Chinese finance ministry official warned that pressuring Beijing to speed up currency flexibility will "backfire."
China ended a decade-old direct link between the yuan and the U.S. dollar in July 2005, and revalued the currency by 2.1 percent. Since then, the yuan has been allowed to rise by 5.3 percent against the dollar in tightly controlled trading.
Despite criticism from the U.S. in particular, Chinese officials contend that reforms are moving as quickly as the developing economy and financial system will allow. They are gradually relaxing controls on interest rates as part of those reforms.
Meanwhile, the Ministry of Commerce reported Wednesday that China's foreign direct investment rose 10 percent in January-April over a year earlier, to US$20.4 billion (euro15 billion).
China, one of 24 non-African shareholders in the African Development Bank, is hosting the bank's meeting for the first time, in a symbol of its growing economic ties with the resource-rich continent.
An estimated 700-800 Chinese companies are active in Africa, sending two-way trade soaring to US$55.5 billion last year, four times its 2000 level, according to the bank. Beijing says it wants to that figure to rise to US$100 billion by 2020.