China's monthly trade surplus more than doubled in April to nearly $17 billion, the government said Friday.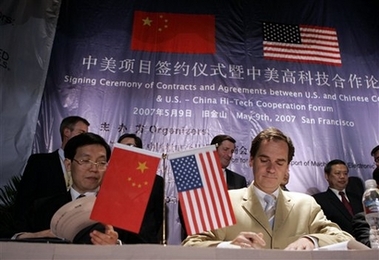 Hewlett Packard Company chief sales officer Andy Mattes, right, and Wan Shou Gu, left, from a Chinese company, sign papers of agreement in San Francisco, Wednesday, May 9, 2007 during a formal signing ceremony between US and Chinese companies. [AP]
The April trade gap of $16.88 billion was below February's $23.7 billion - the second-highest level on record - but in line with steady increases in monthly trade surpluses over the past year.
Chinese and US trade envoys are due to meet May 23-24 in Washington for talks on Beijing's surpluses and other contentious issues.
Some US lawmakers are pushing for punitive tariffs on imports of Chinese goods. Washington is hoping the "strategic economic dialogue," led by Treasury Secretary Henry Paulson and Chinese Vice Premier Wu Yi, helps to mollify critics and avert disruption in trade ties.
Chinese President Hu Jintao expressed hopes for "positive progress" in a phone call with President Bush.
The Chinese government say it is not actively pursuing such large surpluses and has taken steps to rein in exports.
Beijing also is trying to reduce reliance on exports by encouraging more domestic consumer spending, which could boost imports and narrow the trade gap. But an official campaign under way to cool off an economic boom has cut imports of factory equipment and other goods while foreign demand for low-cost Chinese products has surged ahead.
Exports in April rose 26.8 percent, while imports rose 21.3 percent, the General Administration of Customs said on its Web site.
The government reported a monthly trade surplus of just $6.9 billion in March.
Economists had projected a sharp jump in the trade surplus from March to April. They said the February surge was caused by exporters shipping more goods early to beat an expected change in taxes, leaving less to ship in March.
The April figure raised the country's accumulated trade surplus so far this year to $63 billion, the customs agency said.
China reported a global trade surplus in 2006 of $177.5 billion.
The Asian Development Bank said in a report in March that figure could balloon to more than $250 billion next year.
Last year, the United States reported a record $232.5 billion trade deficit with China. China's gap with the United States is bigger than its global surplus because it runs deficits with other countries.