TOKYO - Japan said Wednesday it hoped to keep improving relations with China after Beijing refrained from criticising the Japanese premier for sending an offering to a controversial war shrine.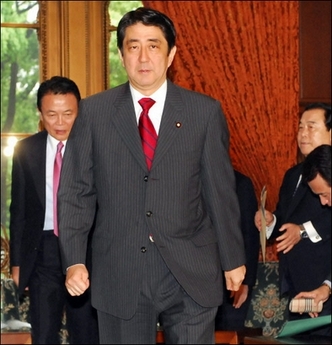 Japanese Prime Minister Shinzo Abe arrives for a cabinet meeting at the National Diet in Tokyo, 08 May 2007. [File]
Chief government spokesman Yasuhisa Shiozaki said Japan and China are building a "mutually beneficial relationship based on common strategic interests," a frequent sound-bite from Japanese leaders.
Prime Minister Shinzo Abe offered a shrub considered sacred in Japan to the Yasukuni shrine, which honours 2.5 million Japanese war dead including leading World War II war criminals.
The Shinto memorial has been at the heart of tensions as some Asian nations regard it as a symbol of Japan's past aggression.
"Both Japan and China share the resolve to build together a beautiful future in bilateral relations, while looking directly at our history," Shiozaki told a press conference.
"We are looking at the same goal of building a mutually beneficial relationship based on common strategic interests. It is important that we maintain this broad current with efforts made by both sides," he said.
Abe, despite his conservative ideology, is not known to have visited the Yasukuni shrine since he took office in September.
China, which has improved relations with Japan under Abe, did not criticise his offering to the shrine, although South Korea said it "greatly regrets" his gesture.
Abe has refused comment on his past and possible future visits to the shrine, saying such remarks would only aggravate Japan's relations with its neighbours.
Abe's predecessor Junichiro Koizumi visited the shrine each year he was in office, which led China and South Korea to refuse any summits with him.
Seen more as a political eccentric than an ideologue, Koizumi fulfilled a campaign promise to go to the shrine annually and made his visits highly visible, drawing intense media coverage.