SHENZHEN -- One Chinese has been confirmed aboard the deadly flight of Kenya Airways Saturday when it crashed in southern Cameroon earlier in the day.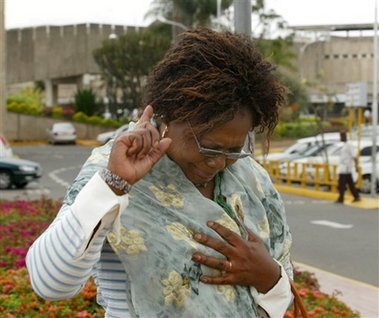 A relative cries on hearing the news of the Kenya airways plane missing at Jomo Kenyatta airport in Nairobi, Kenya, Saturday, May 5, 2007. [AP]


The Chinese person, an employee with south China's Shenzhen-based Huawei Technologies, was on business in Kenya, said a person in charge of the company's public relations department, who declined to be named.

The company has established contact with China's embassy to Kenya and sent people to the scene for the aftermath, said the source.

Huawei Technologies Co. Ltd., a leader in providing telecommunications networks, has set up eight headquarters and more than 100 branch offices in the world.

According to an earlier report, the Kenya Airways plane carried 115 people, of whom six are Chinese. The condition of the Chinese passengers is still unknown.

A China.com.cn report cited a Chinese embassy official in Cameroon as saying that two Chinese nationals have been identified as Liu Sheng and Wu Changgen, both in their 30s. Liu was from Huawei company and Wu was from a Jiangsu company based in Cameroon. Their relatives have been notified.

The identity of the rest is being checked and verified, the reports said.

The embassy has dispatched five people to the site to help identify the Chinese and deal with the emergency, and the Chinese companies stationed there also sent people to the site.

A top Cameroon government official said: "We have located the plane ... and we cannot talk about it."

The Boeing 737-800 was carrying 114 people, including 105 passengers, from 23 countries, Kenyan airline officials said.

Air traffic controllers picked up a distress signal from the missing Kenya Airways airliner just after it took off from Douala airport in Cameroon.

The signal was picked up by satellite at 2.00 am (0100 GMT), a source close to the Agency for the Safety of Aerial Navigation in Africa told AFP.



| | | |
| --- | --- | --- |
| 1 | 2 | |