President Hu Jintao and Liu Qi, head of the Beijing Olympic organizing committee, are on the annual list of the 100 most influential people in the world, released on Friday by the US weekly magazine Time.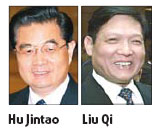 Hu and Liu are among the most influential leaders on the list, which will appear in next Friday's edition.
Five other people of Chinese descent make the Top 100. They are Steve Chen, one of the two creators of video sharing website YouTube; Ho Ching, CEO of Temasek Holdings; Pony Ma, chairman of Tencent Company; New York Yankees pitcher Wang Chien-ming; and blogger Zeng Jinyan.
An article written by Robert B. Zoellick, former US Deputy Secretary of State, described Hu, 64, as a leader with "knowledge, intelligence and confidence".
The article said Hu's vision has been to build a "harmonious society" and he aims to overcome the internal economic and social tensions brought on in part by China's extraordinary growth.
Hu explains plans for a "peaceful rise" in seeking a benign external environment, the article said.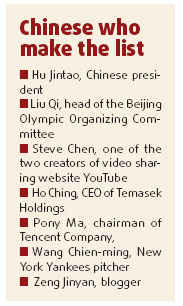 It is the second time that Hu has made the list after his debut in 2004.
Hu became general secretary of the Central Committee of the Communist Party of China (CPC) in November 2002, and became president of the People's Republic of China in March 2003.
The magazine praised 64-year-old Liu Qi, who is also CPC secretary of Beijing, for his efforts to make Beijing a better host of the Olympic Games.
He has been advocating "civilized behavior" among Beijing's citizens, the article said.
For example, he has designated the 11th day of every month from now until the Games begin on August 8, 2008, as "Learn to Queue Day".
The magazine said his efforts, including crusades against spitting, smelly taxis, Chinglish signs and dirty toilets, are manifestations of the gargantuan task he has been charged with in transforming China's capital both physically and spiritually in time for the Games.
This year's list includes 71 men and 29 women, and the most notable omission is US President George W. Bush.