Guanghe Theater, built during the Ming Dynasty (1368-1644) and the oldest one in Beijing, is to be torn down during the May Day holiday week.
With a history of more than 360 years, Guanghe Theater is thought to be the cradle of Peking Opera.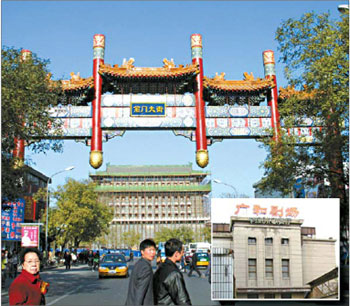 Pedestrians cross Qianmen Street in Beijing. Inset: The Guanghe Theater which is located near the street. [China Daily/Wang Wenlan]




Many eminent Peking Opera actors have performed on its stage, such as Mei Lanfang (1894-1961), who rose to fame following his first performance at the theatre at the age of 10.

The owner of the theater was originally a salt merchant surnamed Zha, and it was first named after him, "Zha Building". It was changed to "Guanghe" afterwards.

Despite its past popularity, the theatre over the years has given way to the ravages of time. The three-storey building at No 46 Roushi Street near Qianmen in Chongwen District, has been abandoned for almost 20 years.

The gate of the theater has been padlocked since the building was declared unsafe in 2000 by the Beijing Architecture Design and Research Institute.

Under a new plan, Qianmen Street will be turned into a "pedestrian mall" following six months of construction starting this month.

"We hoped to rebuild the theater on its original site, but the space is too limited to meet the demands of a large scale modern theater," Ma Dekai, chief of cultural facility construction at the Beijing Municipal Bureau of Culture, said.

"Government officials plan to choose another site for the theater, and a new 'Zha Building' will be built on the Guanghe site housing a tea house," Ma said.

Like the Broadway theaters of New York in the United States, the new theater will be equipped with high-tech facilities and have regular shows all year round.

At a cost of 50 million yuan (US$6.48 million), the theater will be designed to complement the surroundings of its new location, Ma said.

Two locations in Chongwen District have been earmarked as as possible sites.

One is a 5,000 square-meter lot near the junction of Qinian Street and Liangguang Street, and the other is a 3,000 square-meter lot on the eastern side of Xingfu Street.

Details of design and construction are pending a final decision on the new site.

Beijing used to have about 40 opera houses, but few of them are still in existence.

According to the Beijing Performance Association, the city has more than 80 theaters, but compared with its 16.5 million population, the number is relatively small.

Statistics show that in 2005, more than 6,600 performances were held in Beijing and audience numbers exceeded 4 million.

Hou Xisan of the Beijing Folklore Association said: "Guanghe Theater has witnessed the development of Peking Opera. Its reconstruction will be useful in boosting Peking Opera and developing the history of Beijing theaters as well."