Newly appointed Foreign Minister Yang Jiechi received his first foreign counterpart Peter Mackay from Canada yesterday, vowing to push forward the bilateral strategic partnership.
Yang, who took charge last week, said Mackay's first China visit comes at a very important juncture of Sino-Canadian relationship.
He said he hoped the two countries will expand the dialog process at various levels to strengthen cooperation in trade, energy, science and education.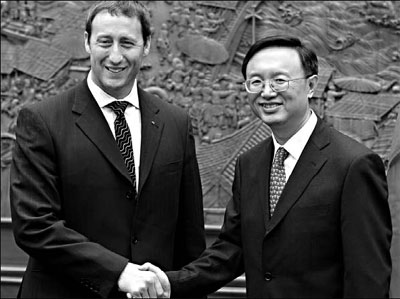 Foreign Minister Yang Jiechi meets his Canadian counterpart Peter Mackay yesterday in Beijing. The occasion marked Yang's first meeting with another country's foreign minister since he assumed the post last week.[China Daily]
Yang said Beijing and Ottawa should deal with the disputes afflicting bilateral ties in a proper way and boost consultation and coordination on major global and regional issues.
Mackay said he will work to establish "cordial and productive relations" between the two countries and would like to strengthen mutual trust. He said Canada values its ties with China and is keen to further the strategic partnership.
Mackay also met State Councilor Tang Jiaxuan yesterday.
Sino-Canadian ties have soured since the Conservative Party took power in Canada last year. The new administration has been harping on human rights and has differences with Beijing on a number of issues.
The latest dispute is over the case of Huseyin Celil, an ethnic Uygur in Northwest China's Xinjiang Uygur Autonomous Region, who was sentenced to life imprisonment for the crime of "splitting the motherland" and involvement in terrorism.
Canada has been aggressively lobbying for Celil's release, citing consular protection but China refuses to fall in line, saying the case is related to terrorism and Canada should not interfere in China's internal affairs.
York University Professor Emeritus Bernie Frolic has been quoted as saying the present Canadian government has neglected other aspects of bilateral ties by concentrating on the rights aspect. This, he said, has resulted in a poor working relationship with the top echelons of the Chinese government.
(China Daily 05/01/2007 page2)